Aline and Allison have been covering the Fifty Linden Fridays Birthday Bash extensively this month! I am showing you a few things from my top three designer booths I found at the event that I absolutely LOVED. I am featuring free and 50L finds from Jian, Lybra, and Wasabi from the FLF Birthday Bash today.
Jian
First off, let's talk about all the awesome items available from Jian for this event! They deserve an award for the cutest animal-themed items at the FLF Birthday Bash.
The cute kittens crawling up my legs are the free gift. Simply join the free Fifty Linden Fridays group to get these! You can click them to change the breed/look of the cats under the textures menu. I picked these two breeds, and I thought they were so cute together. Wearing these little guys has resulted in me getting some interesting comments from strangers… I love them! The

free

gift also includes a cat that sleeps on your head.
Secondly, let's talk about the kitten purse. It's a bag shaped like a banana with an adorable kitten inside it! Honestly, how can you resist? You get a full fatpack for only 50L at the event. It includes wearable bags with kittens in them for your right and left shoulders, as well as rezzable versions of the kitties in the banana purse and rezzable versions of the bag without a cat in it. They are precious and cute, truly. ❤
Lybra
Lybra has some awesome offerings at the FLF Birthday Bash. They are selling 4 mini-packs of shoes for only 50L per pack. I have been loving the shoe designs Lybra has been releasing. They are very detailed and unique, and on sale for an excellent price too! I am wearing one of the 50L mini-packs right now, called the "Morgan" shoes. Each 50L mini-pack includes a colour hud of white, black, pink and red colours. You can colour the top and bottom of this pair of shoes to different colours, and the pack includes 3 metal options for the heart pendant connected to the laces.
Sizes Included
Lara
Legacy
Kupra
Erika
Slink
Belleza
Lybra is also offering a white and pink patterned version of Morgan as their free event gift for the FLF Birthday Bash. Those ones have little bunnies on the bottoms. See the vendor photo below as a preview and make sure you pick up this free texture of the Morgan shoes while you are at the event. Take a look at the other 3 mini-packs Lybra has on sale for 50L too- they are all amazing!
Wasabi
I am also wearing another 50L sale item from Wasabi. This was a past sale item I believe, so check if you have it already. I had missed it in the past, so I picked it up this time around! I love when I get a second chance. 😉 This hairstyle is called "Sunday". It's a style of braided pigtails, so what's not to love? The 50L deal includes a full "absolute" pack of hair with 3 extensive colour huds, and there is a styling hud included as well. You can turn the accessories (the hair clips) on or off.
Make sure you check out Aline's post here which shows the new hair Wasabi is selling for only 50L at the event.
Everything from this year's FLF Birthday Bash ends so soon on September 2nd! So rush over there now and get what you want before it all goes away. I have linked the past FabFree coverage of the FLF Birthday Bash below for your convenience. Make sure you check out these great posts and get the goods before it's too late!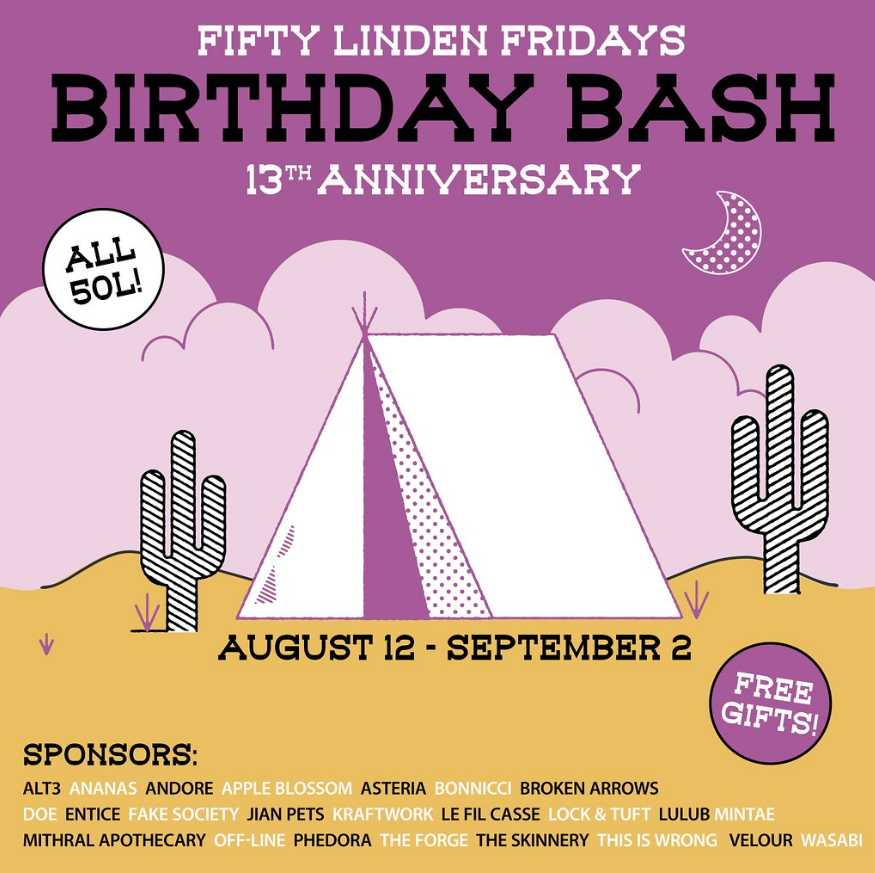 Have fun at the Bash, FabFree!
xx
-Caroline
Caroline is Wearing…
Clothes & Accessories
Dress – Tooty Fruity Dress – Vikki – Fatpack 
Shoes – Lybra Morgan Shoes – Mini-Pack (50L @ Fifty Linden Fridays Birthday Bash)
Kitten Purse – Jian Banana Kitten Purse (50L @ Fifty Linden Fridays Birthday Bash)
Kitties on Legs – Jian Kitten Clingers (Free Gift @ Fifty Linden Fridays Birthday Bash/Group is Free to Join) 
Body
Hair – Wasabi Sunday Hair -FLF Edition (50L @ Fifty Linden Fridays Birthday Bash)
Mesh Body – Maitreya Lara
Thighs Addon – MAZE Soft Thighs
Mesh Head – Lelutka Lake – EvoX
Head Skin – Dernier Hannah – Sienna
Body Skin – MILA Older Body Skins – Honey Chubby (Free on the Marketplace) Previously blogged here.
Neck Fix & Ear Skins – Velour EvoX Ear Skins and Neck Fix – Sienna (Free/No Group Join Required) Previously blogged here.
Eyes – Lelutka Lake – EvoX
Nails – Maitreya Lara
Photo Location – Private Location