Hey FabFree! It's time to share my take on FabFree's Enchanted Forest Hunt, which is simply AMAZING! I love fantasy, magic and forests so this is a must- do hunt! You can read all about our hunt going on here.
Enchanting Decor
The first few prizes I want to share from the hunt are a few pieces of beautiful decor at Noveny, one of my all-time favourite furniture and decor stores. The hunt items from this lovely designer are whimsical and remind me a bit of Alice in Wonderland. I love that floating clock especially, and it even have a beautiful inscription of the store name on it. In addition to the clock, there are also 2 lanterns, and that awesome tree with the sparkling magical globe inside available as prizes on the cute! These are awesome items, and they cost 5L each on the hunt. The hints to find the 4 items are:
"Let us assist you"
"Don't have a sweet tooth, you can get caught"
"Love Love Love, red, sorry love"
"I'm the bigger one here"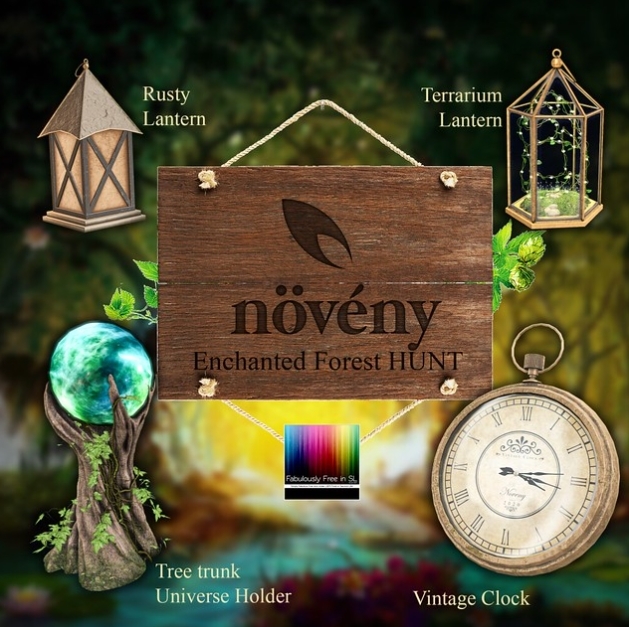 Enchanting Dress
The other item I am showing today is the beautiful Crystal Dress, which is the hunt prize by Ari-Pari. There are 5 versions of the dress available for 5L each, just look for those little fairies and these dresses are yours! The hints to find the 5 dresses are:
"Don't forget to vote!"
"Watch your step!"
"Feel free to join our group!"
"Twinkle, twinkle little… hedge?!"
"How much is that faerie in the window?"
Sizes Included
Hourglass
Freya
Kupra
Lara
Legacy
Some matching shoes!
The last freebie I have to share today are some free heels at Free Dove. These are from Tiffany Designs and they are a beautiful blue pair.
Enjoy the hunt, FabFree!
xx
-Caroline
Caroline is Wearing…
Clothes & Accessories
Dress – Ari-Pari Crystal Dress #2 (5L on the FabFree Enchanted Forest Hunt)
Heels – Tiffany Designs Lily High Heels (Free at Free Dove/ Group is Free to Join)

Body

Hair – Alli&Ali Amaltheia Hair Variety Colors (Available @ Hair Fair)
Mesh Body – The Shops Legacy
Mesh Head – Lelutka Lilly
Skin – 7 Deadly S[K]ins Lotte Taupe
Eyes– Euphoric Hope Eyes (Free Group Gift/Group is Free to Join)
Eyeliner– Lelutka Lilly
Lipstick – Lelutka Lilly HD Lipstick
Nails – The Shops Legacy
Decor

Clock – Noveny Vintage Clock (5L on the FabFree Enchanted Forest Hunt)
Tree Trunk – Noveny Tree Trunk Universe Holder (5L on the FabFree Enchanted Forest Hunt)
Lantern 1 – Noveny Terrarium Lantern (5L on the FabFree Enchanted Forest Hunt)
Lantern 2 – Noveny Rusty Lantern (5L on the FabFree Enchanted Forest Hunt)
Jar 1 – Noveny Fantasy Jar Fairies
Jar 2 – Noveny Fantasy Jar Forest