I find a smattering of decorating in SL can be quite relaxing.  It's not like it's the most easy thing in the world, seeing as it can be a bit fiddly, but I find putting a little cozy nook together can be quite fun.  And wouldn't you know it, that's what I've done today!
The Setting
If you're anything like me, you'll be an avid collector of homes.  When they're completely free, than I'm pretty much as happy as a clam.  I just picked up the free skybox by Erfe over at The New Ones event.  All I had to do was join the free Binge Events group, and then click on the gift box not far from the landing point.  Setting up was pretty easy, just rez out the box and click "rez" and it will appear for you.  It has a lovely balcony, two smaller rooms and an entrance way – and I just love the coffered ceiling.  Fab!  I know you can't really see it in my picture above, so I've given you a kind of behind the scenes look below so you can see the general size of the place.  The New Ones is running until April 5th!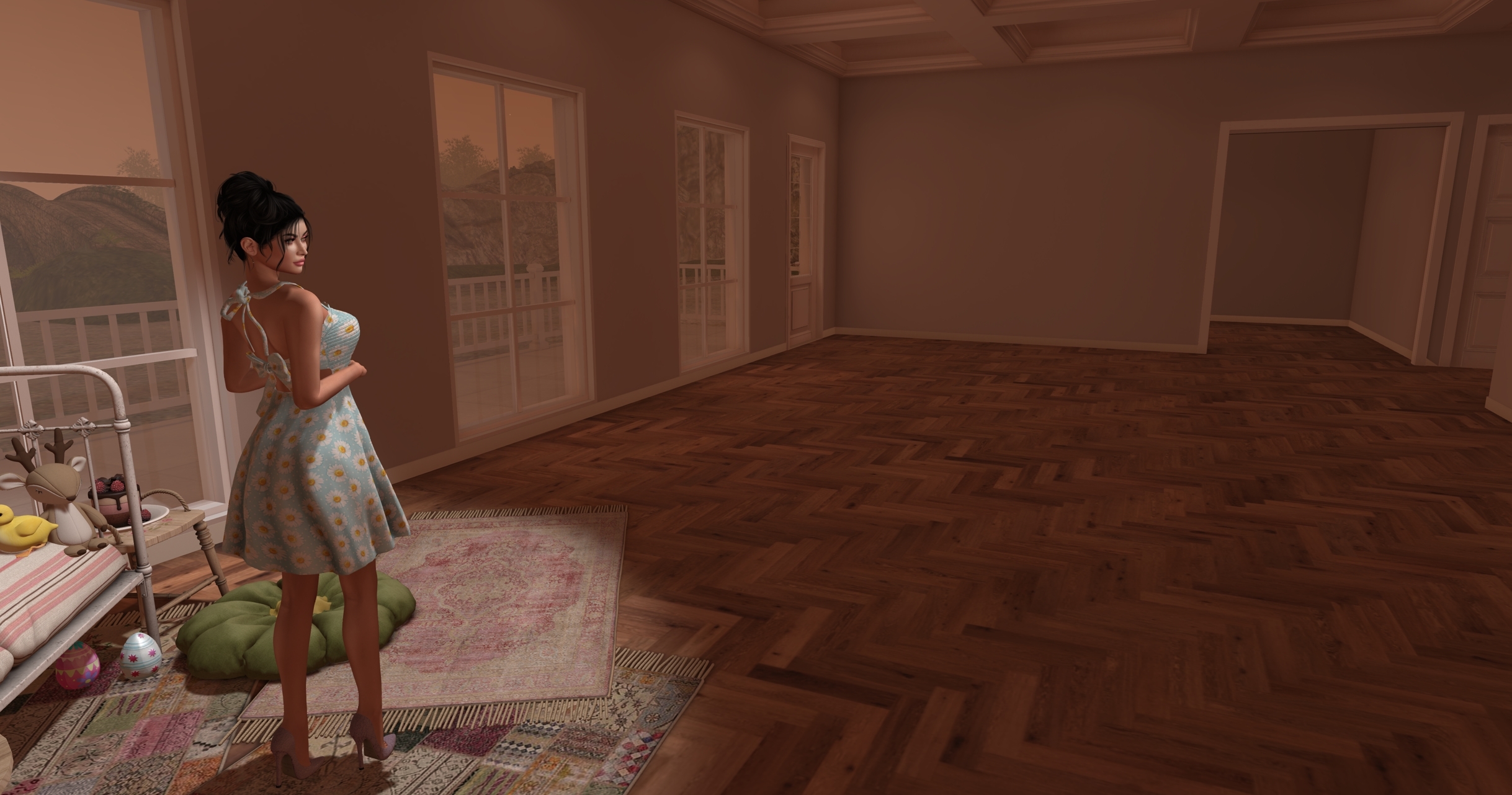 Off to Wonderland
Petite Mort & Oubliette have redecorated the Witchwood Sim, and with that comes a really awesome hunt plus a sale at both stores.  I do love when they have these lovely little hunts, and this one features 16 decor and clothing items (with an emphasis on the decor) for your collecting pleasure.  There are plenty of 10L and 20L items to keep you happy, and there are even a few little free gifts too all hidden inside eggs across the sim.  Head first to the dedicated hunting area (through the dark tunnel near the landing point) and bask in the lovely decorating that's been done while you hunt.  Some of the prizes are also located inside and around the stores, so don't forget to head that way too.  You can grab all the hunting information at the landing point, which I found quite useful.
I won't list all the decor here in the body of my post (just look below to my credits for the info) but I will mention this lovely dress covered in daisies is just 20L and sized for Maitreya, Legacy & Reborn bodies.  You've got until April 10th to find them all!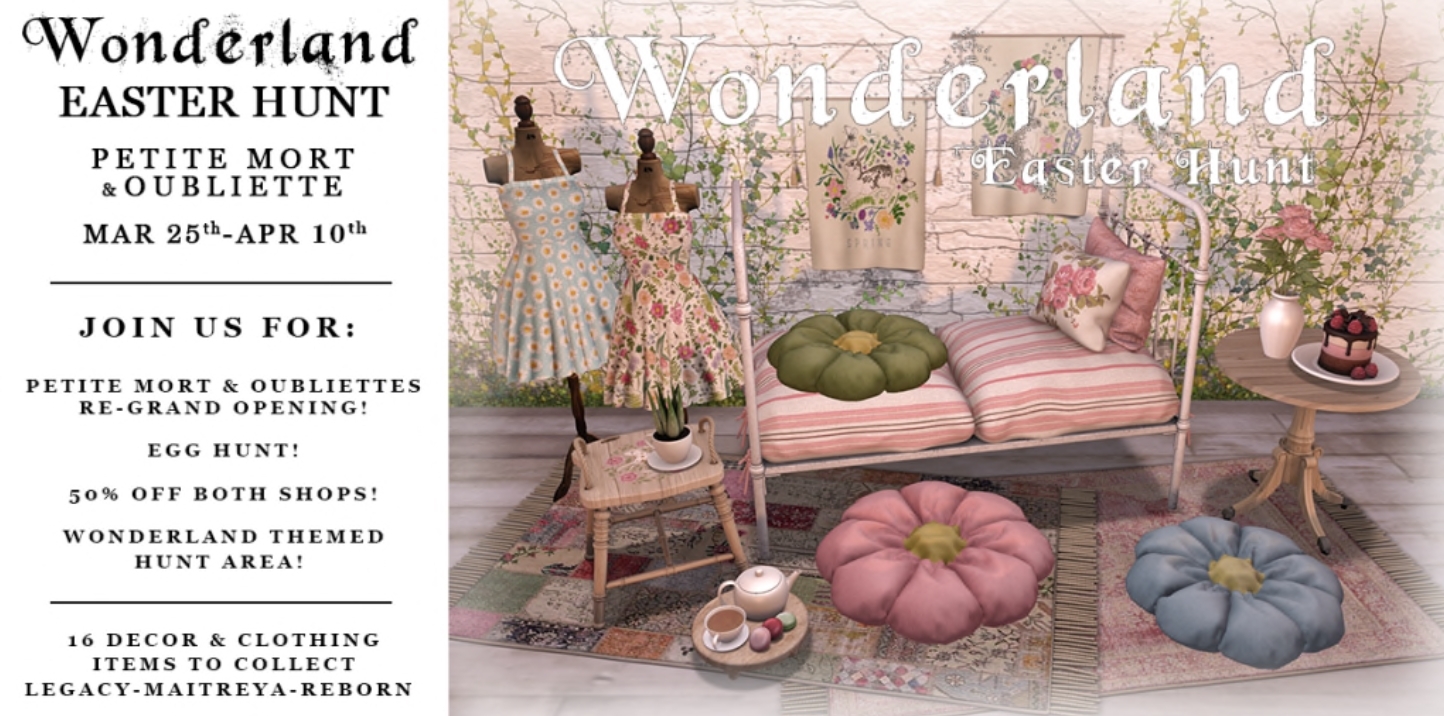 Ahh, a little space of my own…
xox
Aline
Aline is Wearing…
Clothes
Dress – Witchwood Dress Blue Daisy (20L on the Witchwood Wonderland Hunt)
Shoes – Dead Doll Lydia Lace Pumps
Earrings – Ysoral Angel's Heart
Body   
Mesh Body – Maitreya Lara
Mesh Head – Lelutka Cate
Skin Applier –  Glam Affair Cate
Eyebrows– Jumo Britani
Eyes– Euphoric Dolly Babe Eyes
Tattoo – Sn@tch Filigree Sternum Tattoo
Eyeshadow – Alaskametro Spring Beauty Book
Lipstick – Alaskametro Spring Beauty Book
Nails – Alme Mesh Stiletto Nails Holo Ombre
Hair – Stealthic Barbwire
Pose – Foxcity Influencer
Aline's Decor
Skybox – Erfe Country Skybox (Free Gift @ The New Ones/Group is Free to Join)
Bed – Witchwood Wonderland Daybed (20L on the Witchwood Wonderland Hunt)
Carpet 1 – Witchwood Wonderland Rug 1 (10L on the Witchwood Wonderland Hunt)
Carpet 2 – Witchwood Wonderland Rug 2 (10L on the Witchwood Wonderland Hunt)
Cushion – Witchwood Wonderland Flower Pillow Green (20L on the Witchwood Wonderland Hunt)
Stool – Witchwood Wonderland Rabbit Stool (10L on the Witchwood Wonderland Hunt)
Table – Witchwood Wonderland Table (10L on the Witchwood Wonderland Hunt)
Flowers – Witchwood Wonderland Vase (10L on the Witchwood Wonderland Hunt)
Cake – Witchwood Wonderland Cake (10L on the Witchwood Wonderland Hunt)
Tea Set – Witchwood Wonderland Tea & Cookies (10L on the Witchwood Wonderland Hunt)
Banner 1 – Witchwood Wonderland Banner 1 (10L on the Witchwood Wonderland Hunt)
Banner 2 – Witchwood Wonderland Banner 2 (10L on the Witchwood Wonderland Hunt)
Duck – Witchwood Easter Duck (Free Gift on the Witchwood Wonderland Hunt)
Fawn – Witchwood Easter Fawn Doll (Free Gift on the Witchwood Wonderland Hunt)
Egg 1 – Witchwood Chocolate Egg 8 (Free Gift on the Witchwood Wonderland Hunt)
Egg 2 – Witchwood Chocolate Egg 2 (Free Gift on the Witchwood Wonderland Hunt)