Hello again Fab Free'rs! Welcome back to the blog and to this long-overdue edition of Designer Friday 2.0. This week we are excited to share with you more more more from Ultra Vixen II. This quaint shop's biggest attraction, if you ask me, is the full mesh bento avatar they offer. In addition to this fabulous avatar, they have clothing designed with this mesh avatar in mind. The clothing style is feminine, flirty, and designed to show your figure. Keep reading and I'll spill all the tea about this mesh avatar, and all the fabulous freebies and finds you can get your mitts on at Ultra Vixen II.
Mesh Avatar at Ultra Vixen
Big news about the Ultra Vixen II mesh avatar! It's now been updated with BOM compatibility. If you have already purchased a previous version of the Ultra Vixen II mesh avatar you can get a redelivery for free, or go see Heather (Ultra Vixen II's owner/designer) while wearing your Ultra Vixen II mesh avatar for a free upgrade. Not only is this female avatar BOM-ready, she's bento! So if you're in the market for a mesh, bento, and bakes-on-mesh avatar, this might just be what you've been looking for!
Free Gifts 
Currently there are 3 store freebies at Ultra Vixen II. The way the gift vendors work at Ultra Vixen II is that you will be directed to a Marketplace link when you click on the vendor photo. Once you've opened the Marketplace link you'll be able to purchase the gift for 0 linden. No group is needed to purchase these free gifts meant for the Ultra Vixen II avatar.
Gift 1

– Tube Dress Diana 691

Gift 2

– Halter Top Holly 784

Gift 3

– Glowing Pink Bikini & Shoes
Fabulously Free in SL Group Gift
Ultra Vixen II generously has out 2 gifts exclusively for Fabulously Free in SL group members. One is a cute mini dress, and the other is an equally pretty tube dress with a short version as well as a long version. Both dresses work with the Ultra Vixen II avatar. The Fab Free group is free to join.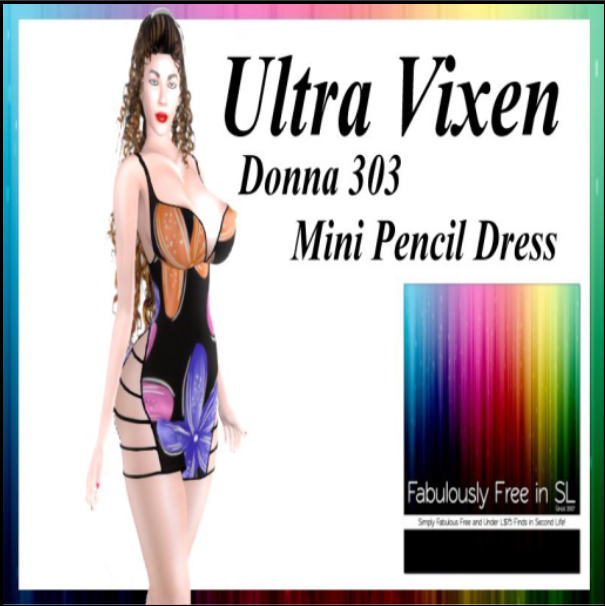 Other Gifts and Finds
In addition to the store/Stay at Home gifts at Ultra Vixen II, and the 2 Fab Free group gifts, there is a free gift for the Mesh Body Friends group. It's a printed version of the Donna mini pencil dress that's sure to turn heads. The Mesh Body Friends group is free to join.
Mesh Body Friends Group Gift – Donna 303 Mini Pencil Dress – Group is Free to Join
Happy Weekend Fab Free!