The end of the month of June is a magical time, I think.  The long days, the warm nights, the stars in the sky… it all kind of mixes together to make this enchanting heady mix of lovely weather and (if you're lucky) relaxed living.  I'm having a sip of all the season can bring, and it's got me feeling like it's alllllll good.
To Amias we Go
It's time to celebrate Amias' 4th anniversary!  The store is all on sale, and there's a new group gift for members of their free to join group.  There's even a version of this lovely cropped sweatshirt for the guys, so nobody is left out of the fun.  There are plenty of other really nice gifts on the wall there too while you're at it, so do check them out as well.
Sizes
Maitreya
Legacy
Maitreya Petite
Belleza Jake
Signature Gianni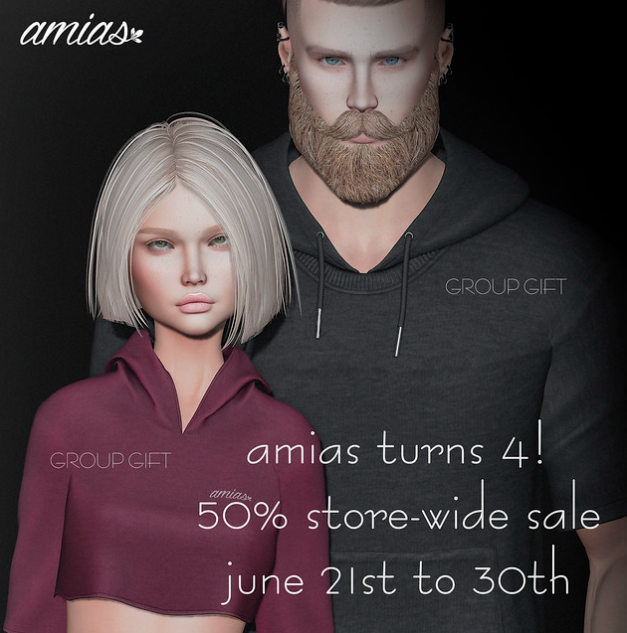 A Sip of Hope
You all know that our awesome Enchanted Forest Hunt is in full swing, and we're so proud to show off the lovely gifts the creators have put out for you.  This super sweet drink comes to you from ChicChica, and it's completely free.  Isn't it pretty?  I love the bento holds at ChicChica, always so delicate and perfect!  You've got a while yet to take part in the FabFree Enchanted Forest Hunt… check out all the prizes and hints right HERE.
Ah, June.
xox
Aline
Aline is Wearing…
Clothes
Top – Amias June21 (Free Group Gift/Group is Free to Join)
Skirt – Blueberry HBIC (Previously Blogged HERE)
Drink – ChicChica Hope (Free Gift on the FabFree Enchanted Forest Hunt)

Body  
Mesh Body – Maitreya Lara
Mesh Head – Lelutka Cate
Head Applier –  Glam Affair Cate
Eyebrows– Jumo Britani
Eyes– Euphoric Dolly Babe Eyes
Tattoo – Sn@tch Filigree Sternum Tattoo
Eyeshadow Applier –  Alaskametro Fire
Lipstick Applier – Lelutka Cate
Nails – Maitreya Lara 
Hair – VCO Sunny
Sim – Private