In much need of some distraction, I have been so ready for the weekend. Thank goodness for Second Life, am I right?! Weekends are often a favorite time in-world. Not only are there more of us online, there are some pretty cool sales for my fellow shopaholics and I to indulge in. This weekend you won't want to miss the Happy Weekend offer by Muniick. I'll tell you all about it below. Also, No Cabide catered to my affinity for sweaters with an adorable sweater skirt and top combo group gift. As always I'll give you the details further on. Have fun Fab Free!
Muniick
I have to to say that I'm often impressed with what Muniick has on sale for Happy Weekend. This weekend you can pick up their Llewellyn Dining Collection for just 60 linden. The set is beautiful, and includes the table, chairs, place settings, placemats, candles, chandelier, and the potted plant. Most of the items have texture change options, and the seating has quite a few sit animations. Do not miss out on this one!
No Cabide
It's finally started to get colder where I live and I am hence feeling desire for the coziness of sweaters and cold-weather fashion. No Cabide put out a very cute sweater top and skirt combo as a free group gift, and I'm absolutely enjoying it. The top and skirt can be worn together or separate, and the color/texture change hud has solid and plaid options to choose from. The No Cabide group has a one-time join fee of 75 linden.
Sizes Included: Maitreya Lara, Belleza (Freya, Isis, Venus), Kupra, Slink (Hourglass, Physique), MeshBody Legacy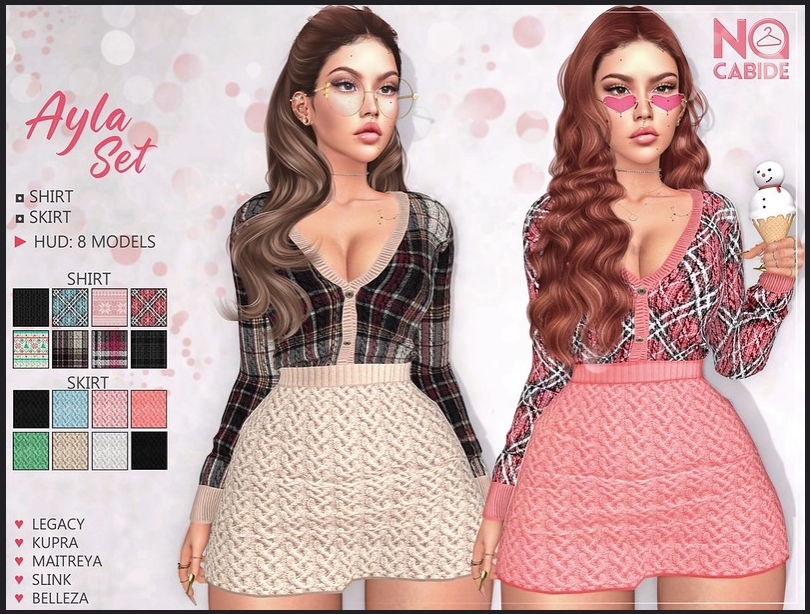 Credits:
Dining Room Furniture & Decor – Muniick Llewellyn Dining Collection – 60L for Happy Weekend *This Weekend Only

Table, Chairs, Chandelier, Plant, Place Settings, Placemats, Candles

Cats – JIAN Forest Cat Collection
Fireplace – Simply Shelby – Turkish Fireplace
What I'm Wearing: