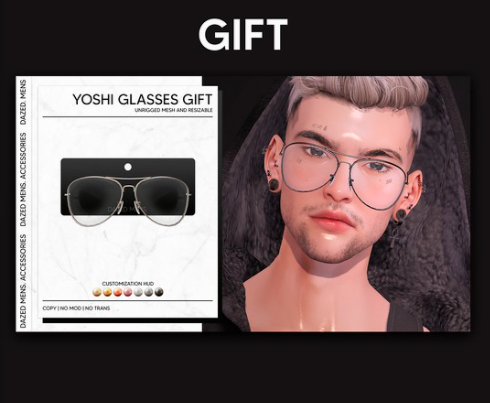 Free Group Gift/Group is 50L to Join @ Dazed Men's
Hello everyone, I hope you are all are staying as safe and sane as these crazy times allow! Candyland is about to end, but you still have until the 24th to go grab some goodies- Pru told us about some of the other gifts you'll find at the event HERE. To pick them up you have to join the Evil Bunny Hunts group for free. You'll find the group join sign right at the event's entrance.   I've picked up a really cute pair of sneakers by Applique` Chic, they come in light blue and pink with little golden flamingos.
Sneaker Sizes
Altamura
Belleza
Maitreya
Non rigged
The shirt is also from Candyland, by Sweet intoxication, which provides a charming look to round out this candy-inspired outfit.  
Belleza Freya, Isis and Venus
Slink Hourglass and Physique
Maitreya
Tonic Fine and Curvy
TMP
Standard sizes
Seraph is wearing…
Mesh Body : Maitreya Lara
Mesh Head: Catwa Catya
Hair: Ayashi Mary
Glasses: Pure Poison Spring Fever (Free group gift, join cost 0L)
Piercing: Doe: Heart Nose Hoop
Band aid: Kotte band aid pastel
Necklace: Sweet thing Melty moon necklace
Drink: Micamee Rabbit Cartoon Cup – Drink Me (free group gift. join cost 0L)
Bra: Pixicat Sassy set
Pants: Scandalize Valvena pants 
Sneakers: AC Sparkle sneakers (Candyland free gift. Join Evil bunny hunts group (cost 0L)
Shirt: Sweet intoxication Aina shirt (Candyland free gift. Join Evil bunny hunts group (cost 0L)
Location: Kawaii HQ