Tag Archives:
A Town Called Short Leash
Free Gift for Members of Energy Weekend Price Group/Group is Free to Join @ Luan Poses

It's been so snowy in the Secondlife sims, that I have been moonlighting as a snow plow driver in my spare time.  (just kidding, the snowplow made a nice backdrop.)  What I've actually been doing is trying to keep up with all these great holiday freebees.  So many designers have been giving away so many nice gifts, it is hard to keep up.  I recently found out A Town Called a Short Leash (adult sim) was having an event, so I packed up the snow plow and headed over.  (okay, I will stop with the snow plow.) The Christmas Tree in the center of town had a pile of free presents from different designers on the sim.  I picked up this nice Roux sweater dress by Starlight Apparel there.  The dress comes with a matching belt that can be worn with the dress or separately.
I also found this really cute Hearts face tattoo by Letter K which you can see in better detail on the picture below.

These gifts were put out for Christmas, so you better get them quick.  The holiday season will be gone before you know, taking the Christmas trees and gifts with it.
Dress Sizes Included
XL-XS Fitmesh
Belleza – Freya, Isis, Venus
Maitreya
SLink – Hourglass, Physique
eBody – Classic, Curvy
Tonic – Curvy, Fine
Viol is Wearing…
Clothes:

Dress – Starlight Apparel – Roux Dress (Free Christmas gift under the ATCSL tree)
Shoes – Luas – Holiday Boots (Free Gift/Group is 50L to Join)
Accessory – Big Bear – Coffee Gift
Body:

Mesh Body – Maitreya Lara
Mesh Head – Catwa Sofia
Head Applier – LAQ Natasha BOM Skin (Free Gift/Group is Free to Join)
Body Applier – LAQ Next Level Body Skin
Eyes – Avi-Glam – Twinkle Eyes (Free Gift/Group is 5L to Join)
Nails –  Alaskametro Cosmic Nail Applier (75L)
Tattoo – Letter K – Hearts Face Tattoo (Free Christmas gift under the ATCSL tree)
Lipstick – Stunner Originals – Lipgloss Pretty (Free Advent Gift, available until Christmas)
Eyeshadow – Stunner Originals – Eyeshadow High (Free Advent Gift, available until Christmas)
Blush – Peekaboo – Burn Hearts (Free Group Gift/Group is 50L to join)
Hair – Olive – Peach hair
Sim – Noweeta
This pumpkin queen is ready to dive into all things pumpkin.  You know, pumpkin pie, pumpkin spice latte (though I prefer to remove the coffee….dunno what that says about me) and pumpkin um…. picking?  Sure! It's time to get crazy about orange!
Kink or Treat
A Town Called Short Leash is having one of their epic hunts right now, this one called "Kink or Treat".  As you can guess from the title, it is indeed an adult-themed hunt, though not all the prizes on the hunt are adult items.  I chose the prizes from Aurora's Closet to show you, because they just made me happy in general.  I love a good theme!  I searched the sim for the little purple candy bars and grabbed the shirt for 10L, the pants for 15L and the shoes for 25L (sized for Belleza, Maitreya, Legacy & Slink).  You're sure to find something you like if you check out all the hunt keys and hints on the A Town Called Short Leash website.  Have fun!  You've got til October 31st!
Shirt and Pant Sizes
Freya
Isis
Venus
Ebody Classic
Ebody Curvy (Pants Only)
Maitreya
Hourglass
Physique
TMP
Tonic Curvy
Tonic Fine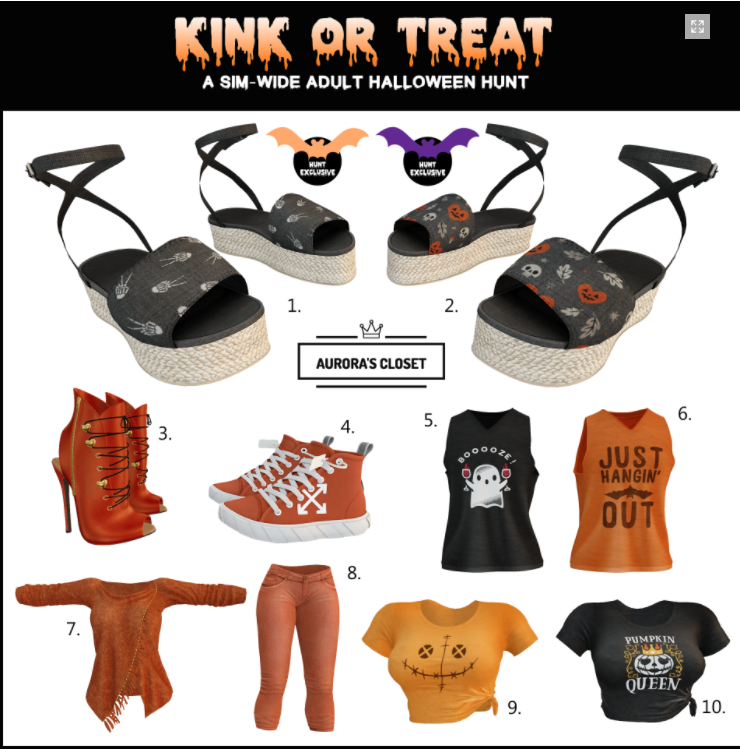 Orange you glad I told you about this hunt?
mwaha
xox
Aline
Aline is Wearing…
Clothes  
Top – Aurora's Closet Pumpkin Queen Ladies Knotted T-Shirt (1oL on the Kink or Treat Hunt)
Jeans – Aurora's Closet Amanda Denim Capris (15L on the Kink or Treat Hunt)
Shoes – Aurora's Closet Gina Espadrilles (25L on the Kink or Treat Hunt)
Drink – ChicChica Iced Coffee
Body 
Mesh Body – Maitreya Lara
Mesh Head – Lelutka Cate
Head Applier –  Glam Affair Cate
Eyebrows– Jumo Britani
Eyes– Euphoric Dolly Babe Eyes
Tattoo – Sn@tch Filligree Sternum Tattoo
Eyeshadow Applier – Alaskametro Fall Essentials
Nails – Maitreya Lara
Lipstick Applier – Lelutka Cate
Hair – Moon Whimsy
Sim – Pumpkin Town