Hey FabFree! Do you like my alpaca? I just love him. We are hiking in the mountains together and got a great photo of our exciting afternoon! I ❤ him. 
Pets Galore
So first off today I am going to talk about all the great animals and pets shown in my post today! First, for free, is this awesome little chameleon! Isn't he cute? You can get him as a free gift from SEmotion & Libellune at Mancave! The event is open until July 11th and they are celebrating their 4th anniversary! And yes- that means LOTS of gifts for the guys- over 100 actually! There are even some unisex gifts and decor thrown in at this event. Just join the event's free group and click on the beer cans at each booth! I don't have a male avatar to show you some of the men's prizes, but this chameleon is one of the many free gifts there. Make sure you head to Mancave before this great event ends. 
I will mention my next find as a side-note- because it's technically not under 75L. My alpaca friend comes from a gacha at the SEmotion & Libellune booth at Mancave. These adorable alpacas only cost 86L a pull. I apologize for mentioning something a bit over our price limit, but my little friend was too cute not to share. For 86L, you get an amazing little friend to ride around the grid and you only need to pull once to get this buddy in one colour.  
Green Gear
The next item on my list is to share this adorable green outfit, which is from Freda on the FabFree Enchanted Forest Hunt. Freda has 5 prizes out including the top, shorts, ripped stockings, sneaks, and a grizzly bear backpack! The sizes for each item are listed below, and the backpack is resizable! This look is perfect for all your outdoor adventuring. Each prize is 5L so look around for that little rainbow fairy and each of these can be yours for only 5 L each! The hint to find these items is, "round and round the work table…"
Sizes Included (Top & Shorts)
Rebirth Eden
Belleza Freya, Isis & Venus
Maitreya Lara
Slink Hourglass & Physique
Tonic Curvy & Fine
Sizes Included (Tights)
Sizes Included (Sneakers)
Rebirth
Rebirth Teen
Rebirth Kids
Maitreya
Belleza
Slink
Classic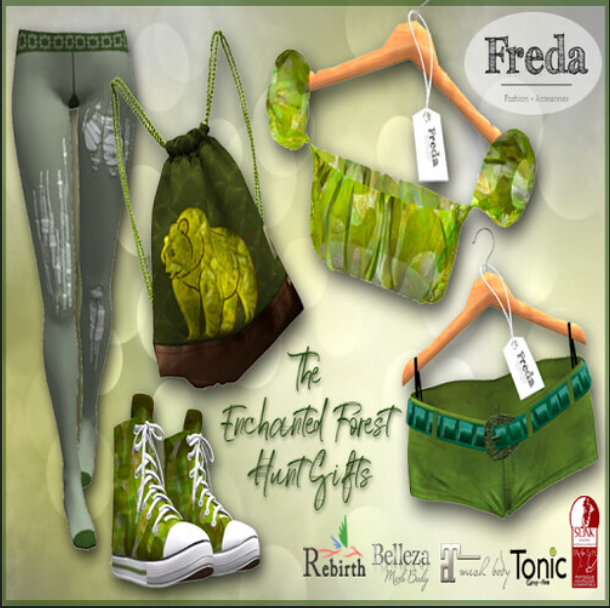 Make sure you also check past coverage of the FabFree Enchanted Forest Hunt at the following posts/links:
More credits @ SL18B! 
The last days to visit SL18B are upon us (it ends on July 6th for good!), and I wanted to share that EscalateD has 350L in free credits in their booth at SL18B. They even have many of their styles on sale for 40% off at the event, which you can purchase with your free credits. I am currently wearing Kinzey, one of their many lovely hairstyles you can buy with the store credit gift. 
Enjoy, FabFree!
xx
-Caroline
Caroline is Wearing…
Clothes & Accessories
Shorts – Freda Brooke Shorts Green Velvet with Belt (5L on the FabFree Enchanted Forest Hunt)
Top – Freda Carly Carmen Blouse Green (5L on the FabFree Enchanted Forest Hunt)
Top – Freda Gymbag Backpack Bear Green (5L on the FabFree Enchanted Forest Hunt)
Top – Freda Jacky Sneakers Forest Green (5L on the FabFree Enchanted Forest Hunt)
Top – Freda Ripped Nylon Pantyhose forest green feet (5L on the FabFree Enchanted Forest Hunt)
Body

Hair – .EscalateD. Kinzey Duo- Naturals Universal Hair Colour Hud (40% off at SL18B/ Purchased with Free 350L Credit Gift)
Mesh Body – Belleza Freya
Mesh Head –  Genus Project Genus Babyface W001
Skin – 7 Deadly S[K]ins Kendal Caramel
Eyes– Euphoric Justine Eyes Applier
Nails –  Belleza Freya

Pets
SEmotion Libellune Rideable Alpaca #13 (86L per pull @ Mancave)
SEmotion Libellune Chameleon #11 (Free @ Mancave/ Group is Free to Join)
Photo Location – Otero County