Time to buy yourself some flowers, a cute outfit, and then spend some quality time with yourself in a pretty place.  I can arrange most of all that for you.  This is why you keep me around, see?
Hearts & Flowers
Paper.Sparrow are hosting a little hunt over at their mainstore, with all sorts of cute and affordable looks for Valentine's Day (or for just being cute and wearing hearts, k?).  With a bit of hunting for the two hearts you see in the photo below you can grab these very nice items for just 75L each.  It's a fun way to spice up your shopping.  You've got until February 14th to take part!
Sizes
Freya
Hourglass
Isis
Legacy
Maitreya
Petite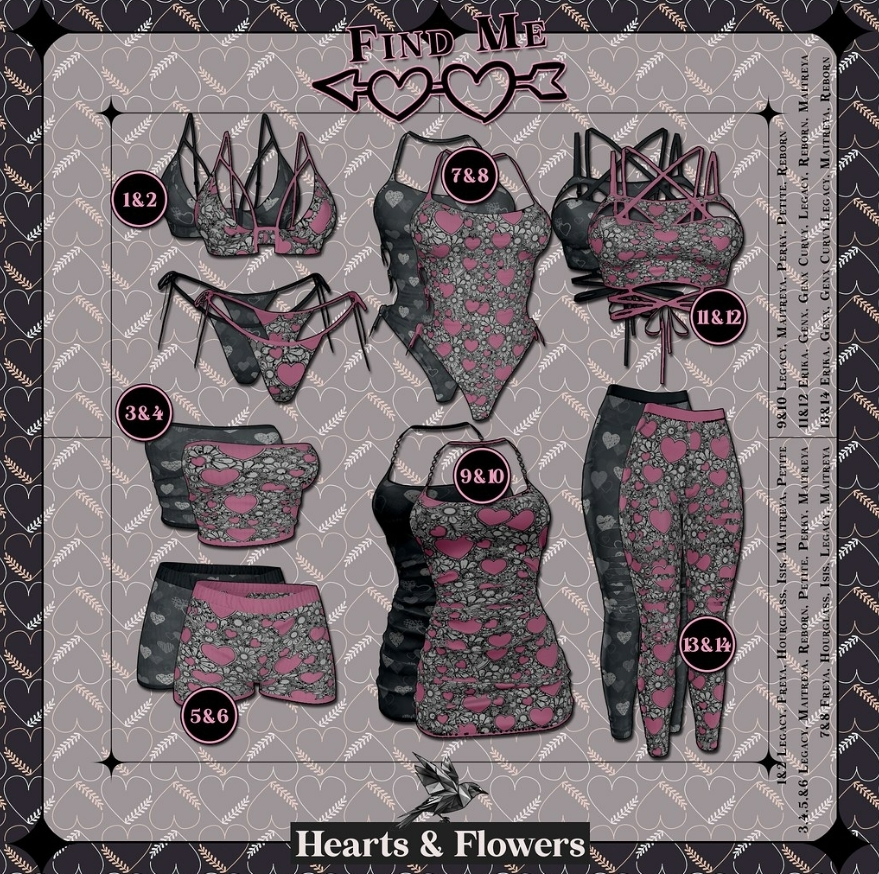 What look will you put together?
xox
Aline
Aline is Wearing…
Clothes
Top – Paper.Sparrow Hearts Anna Bra (75L on the Paper.Sparrow Hearts & Flowers Hunt)
Leggings – Paper.Sparrow Poppy (75L on the Paper.Sparrow Hearts & Flowers Hunt)
Flowers – Ariskea Flower Bouquet Rose
Earrings – Ysoral Luxe Earrings
Body   
Mesh Body – Maitreya Lara
Mesh Head – Lelutka Cate
Skin Applier –  Glam Affair Cate
Eyebrows– Jumo Britani
Eyes– Euphoric Dolly Babe Eyes
Tattoo – Sn@tch Filigree Sternum Tattoo
Eyeshadow – Pout! Day & Night Liner
Lipstick –  Lelutka Cate
Nails – Maitreya Lara
Hair – Stealthic Secret
Sim – Cloud Edge