It's been one heck of a holiday season inworld, hasn't it FabFree?  I've said it before, and I'll say it again – I just don't know where to start with all the wonderful gifts we're being bombarded with.  The generosity of designers never seems to stop astounding me, so lets take a moment to thank all the wonderful creators out there.  THANK YOU!
Little Miss
I've got a few lovely gifties to show off today, the first of which is this great top by Miss Chelsea.  They've always been one of my favourites, so I was pretty excited when I saw they had a new dollarbie on MP for everyone.  It's festive, it's toasty…it has baked goods on it!  What more could you ask for?  Head on over to Marketplace, and buy for 1L, it will be delivered to your received items folder.  Yum!
Sizes
Kupra
Kups
Legacy
Maitreya
Perky
Petite
Reborn
But It's Pure!
I was surprised when I stopped by Pure Poison during my weekend shopping jaunt to find that there's a new group gift that kinda appeared as if by magic.  The heels I have on are SO COOL.  They're furry!  Ha!  I love it.  They're just different, and fun, and perfect for us humans who go out into cold sims wearing inappropriate footwear.  The HUD also has several different colour options for you.  The Pure Poison group is free to join, and you'll find this gift right at the landing point.
Sizes
Belleza
Ebody
Maitreya
Legacy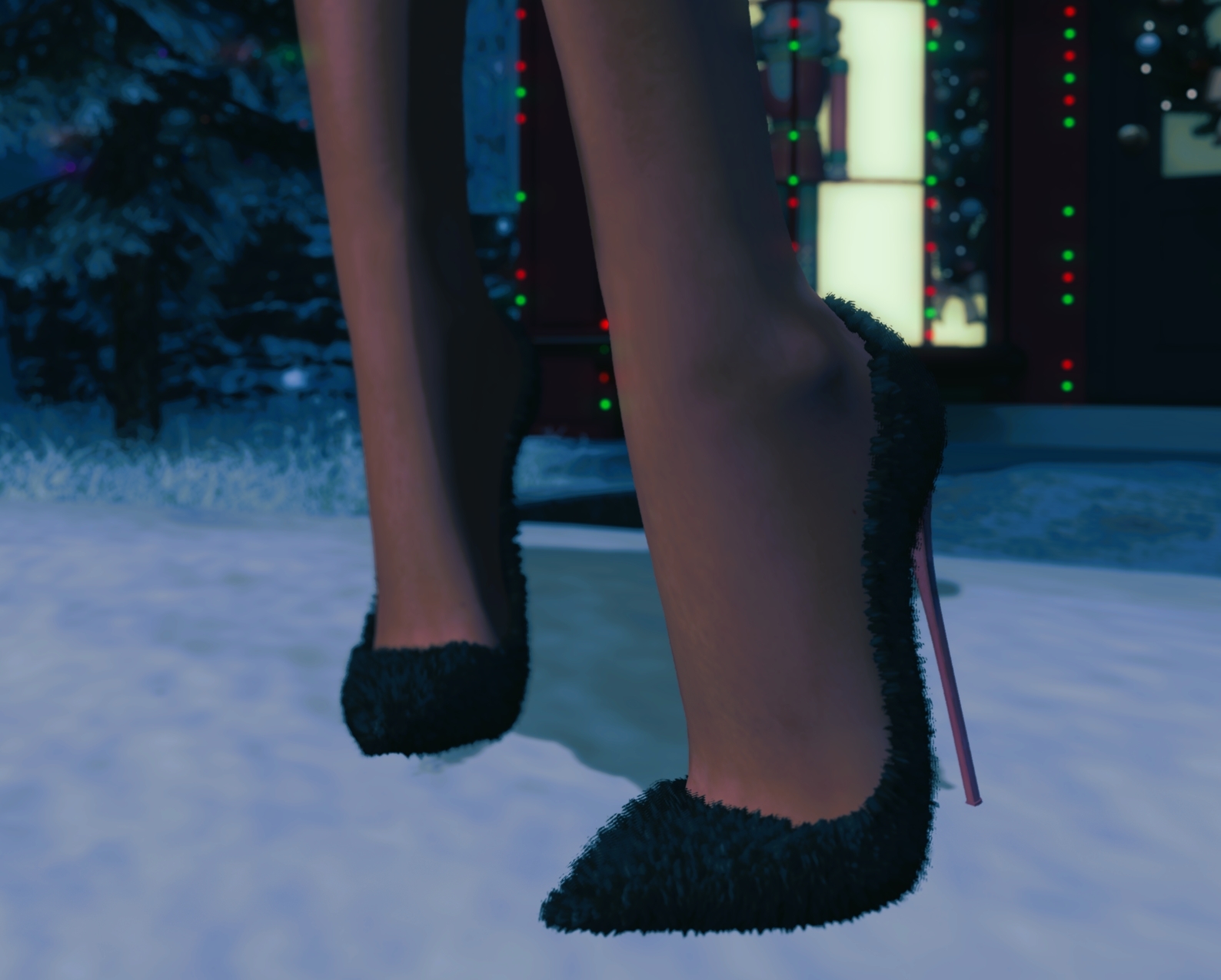 And a Hot Drink
I also happen to adore ChicChica, which you may have noted from my tendency to hold random drinks in a lot of my photos.  What can I say, I sometimes need a little something to keep me going through long photoshoots!  Ha.  Anywhos, head on over to their shop and look on the main counter – you'll find this coffee cup free for everyone, just buy for 0L.  Love it!
Hope your Christmassy-ness is going well, Fabsters!
xox
Aline
Aline is Wearing…
Clothes
Top – Miss Chelsea Nana Sweater (1L on Marketplace)
Jeans – Miss Chelsea Roma Jeans
Heels – Pure Poison Cozy Xmass Pumps (Free Group Gift/Group is Free to Join)
Drink – ChicChica Holiday Coffee (Free Gift/No Group Join Required)
Body   
Mesh Body – Maitreya Lara
Mesh Head – Lelutka Cate
Skin Applier –  Glam Affair Cate
Eyebrows– Jumo Britani
Eyes– Euphoric Dolly Babe Eyes
Tattoo – Sn@tch Filigree Sternum Tattoo
Eyeshadow – Alaskametro Out All Night
Lipstick – Lelutka Cate
Nails –  Maitreya Lara
Hair – Wasabi Oakley Earmuffs
Sim – The Forest