Dim the lights, wrap up in a sweater and grab a bevvy because the weekend is here!  I'm heading out in search of revelry.  Come on, it's not THAT cold out.  I know I'm Canadian and the cold doesn't affect me like other mere mortals… but still!
A Bit Chilly
It's all about layering in this weather, dear readers – and I've got all sorts of cute bits to keep me warm while still looking a treat.  My first stop tonight was Mosquito's Way – because there's a new group gift!  You all know I get excited when Ms. Camilla puts out something new for group members, and these little booties and socks are a true knockout.  I luuuuurve them.  The HUD lets you change the colour to 5 different earthy shades, and the socks also come in 5 different tones.  The Mosquito's Way group is 50L to join, and totally worth every single Linden!  I've added the vendor photo below so you can get a better look at this gorgeous gift.
Sizes
Freya
Isis
Venus
Maitreya
Hourglass
Physique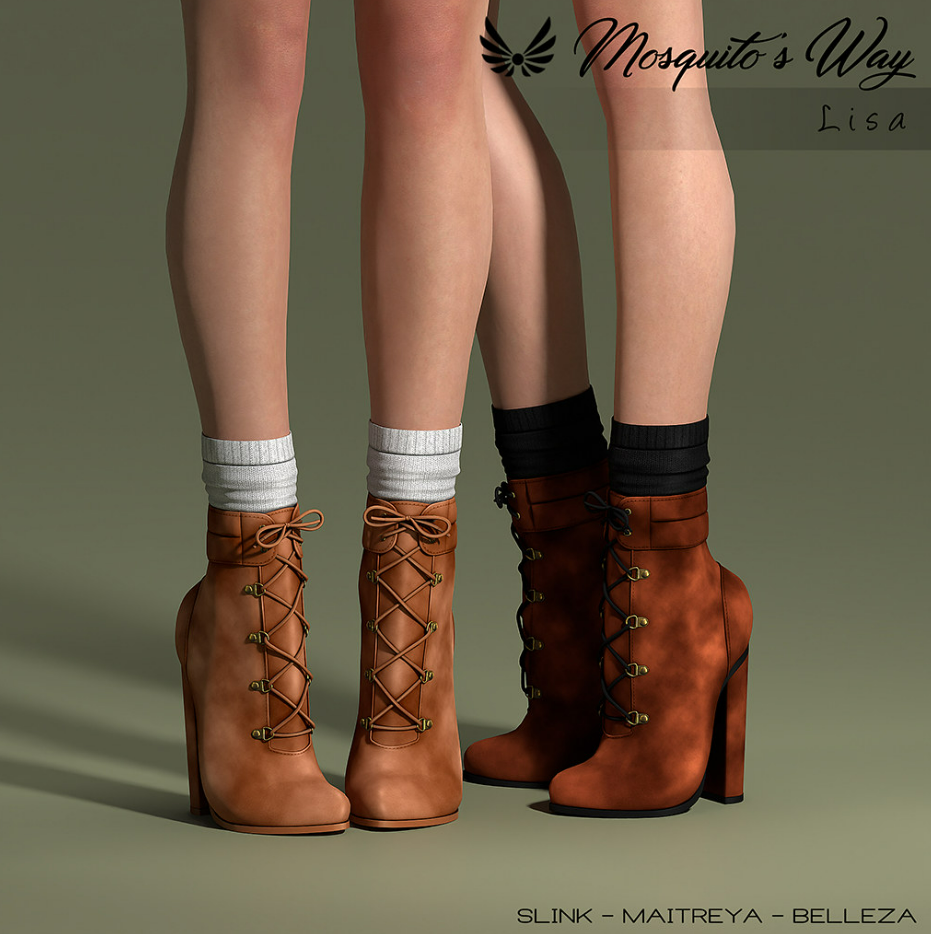 Top it Off
While I was in the Autumn mood, this top by The Bold Llama was calling my name on so many levels.  I've always been a massive Spice Girls fan (ha), and pumpkin spice is just awesome.  I laughed so hard when I saw this top that I knew I'd have to blog it.  It's the prize on our very own FabFree Fallen Leaves & Frost Hunt, and it will cost you just 5L and a bit of hunting.   Check out all the prizes and hints right HERE.
Sizes
Freya
Isis
Venus
Ebody
Legacy
Maitreya
Ocacin
Hourglass
Physique
TMP
Tonic Curvy
Tonic Fine
XS – XL with an Alpha Layer
Maybe there's a bonfire around here?  Not cold, promise!
xox
Aline
Aline is Wearing…
Clothes
Top – The Bold Llama Spice Girl (5L on the FabFree Fallen Leaves & Frost Hunt)
Drink – Ishiku The Devil's Coupe
Boots – Mosquito's Way Lisa (Free Group Gift/Group is 50L to Join)
Sweater – Lazybones Off Shoulder Cardigan
Shorts – Lexu Amaris
Body   
Mesh Body – Maitreya Lara
Mesh Head – Lelutka Cate
Skin Applier –  Glam Affair Cate
Eyebrows– Jumo Britani
Eyes– Euphoric Dolly Babe Eyes
Tattoo – Sn@tch Filigree Sternum Tattoo
Eyeshadow – Alaskametro Fall Essentials
Lipstick – Lelutka Cate
Nails – Maitreya Lara
Hair –  Truth Trinket
Sim – Luane's World