Happy FabFree Fallen Leaves and Frost Hunt Season!  We're back with another of our hunts, this one heralding the onset of cooler weather here in the Northern marches.  You'll find all sorts of fun items, and we're so pleased to show you some of the fabulous prizes.  Let's hop in!
Hunting Fun
I went to three different locations today to show off some of the free prizes you can pick up.  First stop was Ruxy for this appealing velvety dress.  Isn't it pretty?  There's a second prize at Ruxy as well, so look out for the FabFree glowing rainbow throughout the store.
The decor I put together is just so beautiful and really feels haunting and chilly to me in a magical kind of way.  The grasses and bushes all come from Lunaria and they are just so incessantly lovely.  I really love decorating my home sim (and the info hub!) with Larinda's beautiful grasses and trees.  The little lit bushes behind are really cute too, and they're all free with a bit of hunting.
My last stop today was Raindale.  I have always loved the whimsical touch of the furnishings from this store.  It makes me think of Elves.  I'm pretty sure Galadriel did most of her shopping at Raindale when she was furnishing her home in Caras Galadhon (yes, nerd moment…).  The swing, hammock and leaf-shaped boat behind me (check it in my second photo) are all free as well.
Dress Sizes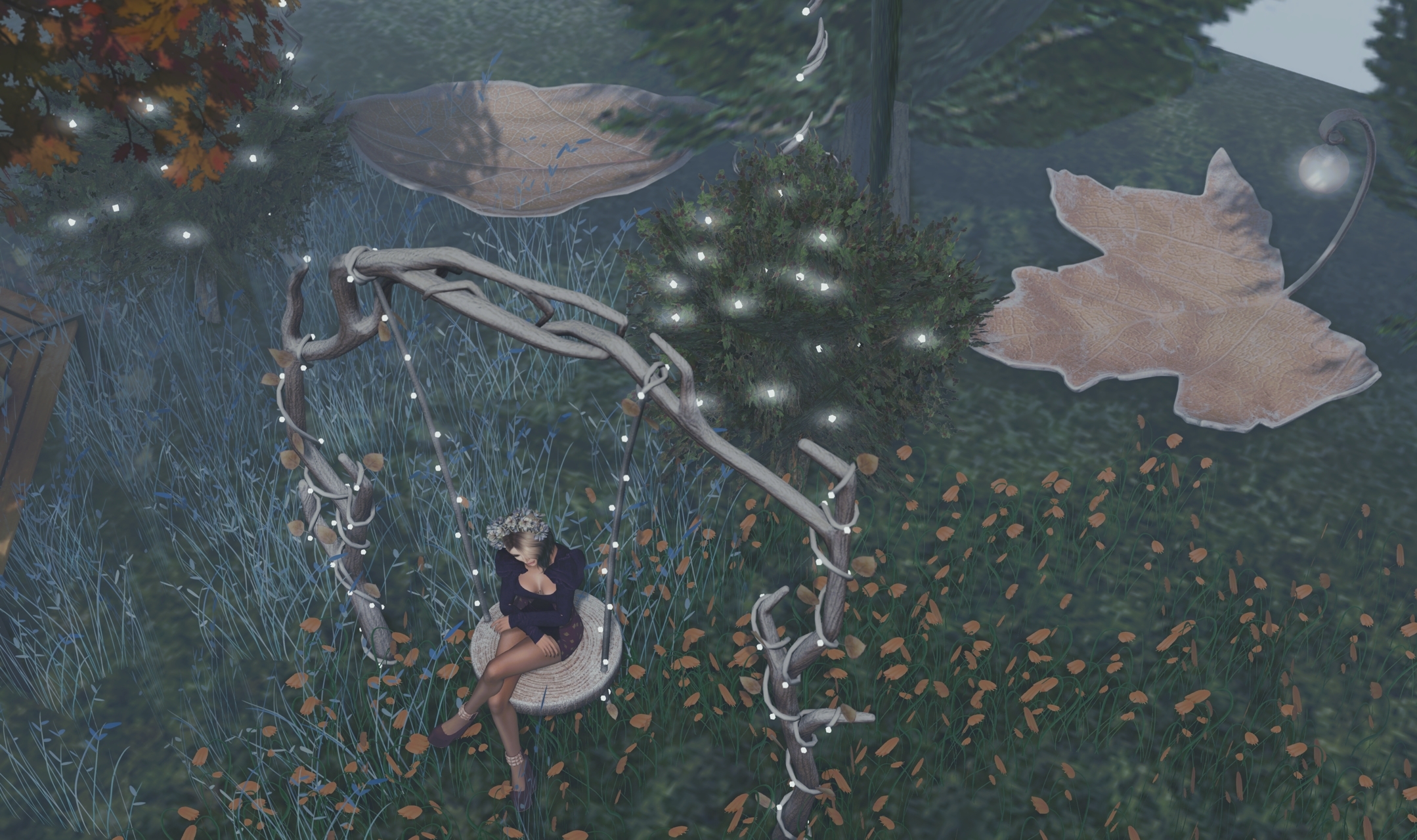 The FabFree Fallen Leaves and Frost Hunt is running all the way to the end of the month, so you have loads of time to find the gifts.  Check out the hints and prize keys right HERE, and make sure you tell your friends.  The more the merrier!
Have an awesome hunt,
xox
Aline
Aline is Wearing…
Clothes
Dress – Ruxy Cleopatra (Free Gift on the FabFree Fallen Leaves & Frost Hunt)
Crown – LODE Forgotten Crown
Shoes – Breathe Mizuko
Body   
Mesh Body – Maitreya Lara
Mesh Head – Lelutka Cate
Skin Applier –  Glam Affair Cate
Eyebrows– Jumo Britani
Eyes– Euphoric Magic Lenses
Tattoo – Sn@tch Filigree Sternum Tattoo
Eyeshadow – Alaskametro Fall Essentials
Lipstick – Lelutka Cate
Nails – Maitreya Lara
Hair – Magika Faye
Sim – Private
Decor
Grass 1 – Lunaria Fairy Bonnets (Free Gift on the FabFree Fallen Leaves & Frost Hunt)
Grass 2 – Lunaria Oatgrass Winter (Free Gift on the FabFree Fallen Leaves & Frost Hunt)
Bush 1 – Lunaria Wildberry Bush (Free Gift on the FabFree Fallen Leaves & Frost Hunt)
Bush 2 – Lunaria Wildberry Bush 1 (Free Gift on the FabFree Fallen Leaves & Frost Hunt)
Swing – Raindale Meadowtwirl Swing Frost Edition (Free Gift on the FabFree Fallen Leaves & Frost Hunt)
Boat – Raindale Riverbreak Leaf Boat Frost Edition (Free Gift on the FabFree Fallen Leaves & Frost Hunt)
Hammock – Raindale Wondervine Hammock Frost Edition (Free Gift on the FabFree Fallen Leaves & Frost Hunt)