This post is dedicated to Yayoi Kusama, one of my favourite contemporary artists. Kusama is famous for making lots of art with dots just like this dress. Also, I've spent some time locked in her "infinity rooms" in RL and it was awesome. I feel like a Kusama sculpture walking around in this… You should look up her art if you don't know her. She is an inspiration to me! ❤
You can get this awesome dress at Kinky Pinky for only 30 Lindens for FabFree at Fifteen. It includes several other bright colours as well you can change via a HUD, so you can look like a contemporary art piece in many different ways!
Sizes Included
Lara
Petite
Freya
Legacy
Perky
Hourglass
You also get some animated candy hearts in the pack too in five different versions (see vendor photo below).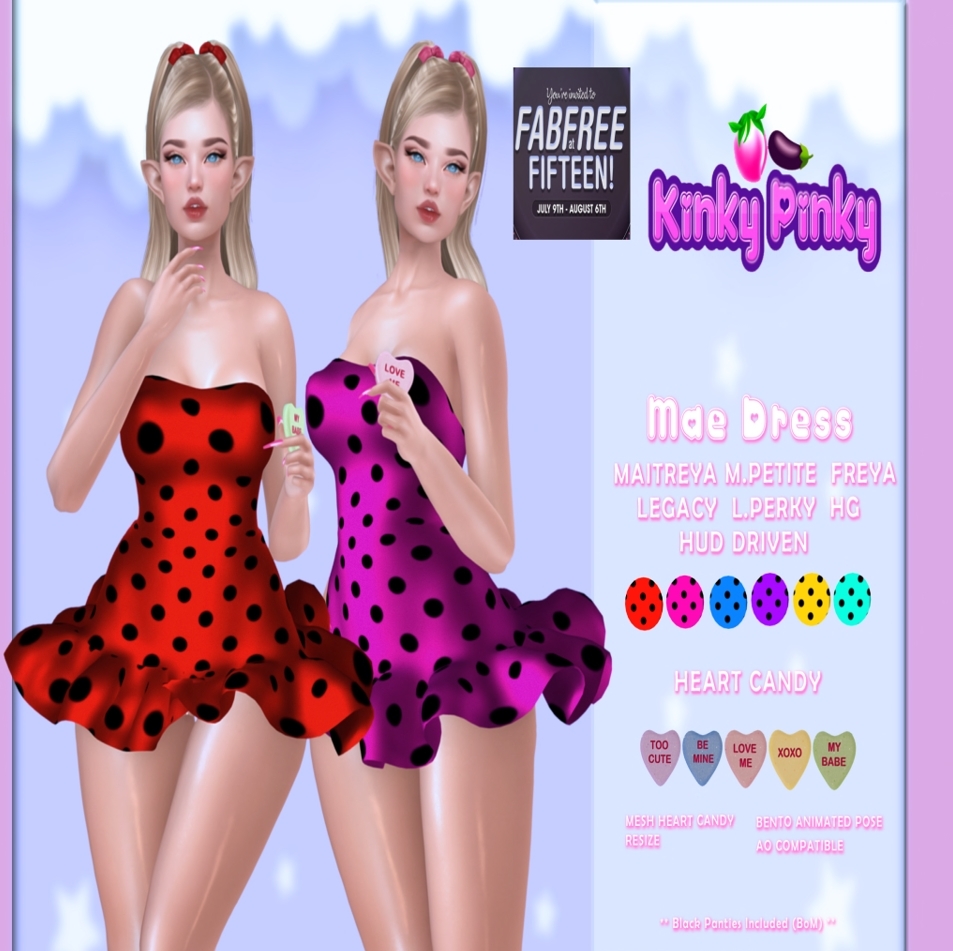 Have a great night, FabFree!
xx
-Caroline
Caroline is Wearing…
Clothes & Accessories
Dress – Kinky Pinky Mae Dress (30L for FabFree at Fifteen)
Shrug & Gloves – MOoH! Frances shrug with gloves BOM

Body
Hair – TRUTH Bunny
Mesh Body – Belleza Freya
Mesh Head – Lelutka Lake – EvoX
Head Skin – Dernier Hannah – Sienna
Body Skin – MILA Older Body Skins – Honey Chubby (Free on the Marketplace) Previously blogged here.
Neck Fix & Ear Skins – Velour EvoX Ear Skins and Neck Fix – Sienna (Free/No Group Join Required) Previously blogged here.
Eyes – Lelutka Lake – EvoX
Makeup – Lelutka Lake – EvoX
Nails – Belleza Freya
Photo Location – Private Location