Time for a study break.  Bring on the milkshakes and donuts, because this chick is in need of some sweet distractions from all my extremely girly notebooks in which I'm clearly writing the name of my crush in big loopy letters.  What, it's a hard job, but someone has to do it.
Access Time!
Is it time for another anniversary round of Access?   I feel like I was just talking about this a little while ago, and boom, it's been a year.  Anyway, they're celebrating!  Yay!  That means lovely gifts for us.  The great thing about Access is that there are some pretty great gifts for male avatars too, so do pass that info on to all the men in your life.   To grab them, just join the free Access group and click on the gift boxes at each stall.  Here's what I've got on:
FREE top by Asteria sized for Maitreya, Freya, Isis, Venus, Hourglass, Kupra, Legacy, Perky, Petite
FREE shoes by Phedora sized for Freya, Kupra, Legacy, Legacy Male, Gianni, Maitreya
FREE rings by Meva sized for Kupra, Maitreya & Legacy
FREE books by Tentacio
Access is running until July 8th so you've got a bit of time.  If it's full, try the cam sims below:
And here's a better look at those rings: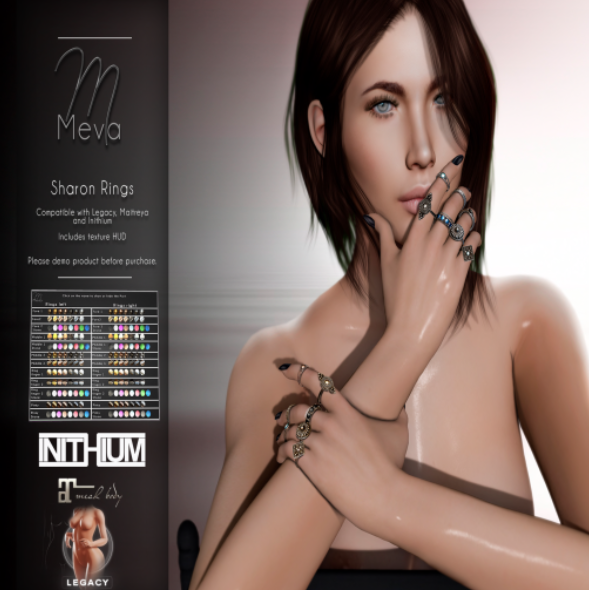 Get me an oreo milkshake, stat!
xox
Aline
Aline is Wearing…
Clothes
Top – Asteria Nomi (Free Gift @ Access/Group is Free to Join)
Shorts – Blueberry Taylor
Shoes – Phedora Seven Sneakers Pride (Free Gift @ Access/Group is Free to Join)
Rings – Meva Sharon (Free Gift @ Access/Group is Free to Join)
Earrings – Ysoral Luxe Earrings
Body   
Mesh Body – Maitreya Lara
Mesh Head – Lelutka Cate
Skin Applier –  Glam Affair Cate
Eyebrows– Jumo Britani
Eyes– Euphoric Dolly Babe Eyes
Tattoo – Sn@tch Filigree Sternum Tattoo
Eyeshadow – Pout!  Day & Night Liner
Lipstick – Lelutka Cate
Nails – Maitreya Lara
Hair –Truth Friday
Pose – Foxcity Sits VOL3
Backdrop – Astralia Vintage Background
Books – Tentacio Study Time (Free Gift @ Access/Group is Free to Join)