It's finally the weekend (and a long one where I am! So super TGIF!)!  I'm just going to get right into it and then probably go party.  And by party, I totally mean fall asleep on the couch.  It was a looooong week, y'all!
Vanilla
There's a new group gift at Vanilla Bae!  This cute bikini is in pretty hue and has some great little tie details on it that make it special.  You'll find it right in the middle of all the sale items in the store.  To get your own, join the group for just 50L, and boom!  Yours!
Sizes
To Lounge or Not to Lounge
My inworld component, Ms. Aline clearly knows where I'm heading after I'm done this post – straight to the couch.  But, my RL couch is nowhere near as cute as this one from Astralia!  It's their latest group gift, and there's both a cute sofa and chair in the box, and it's just so adorable I might squee.  The Astralia group is currently 149L to join!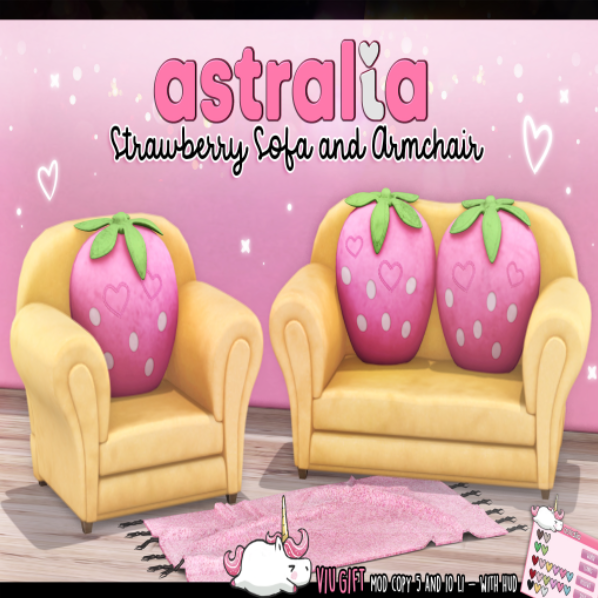 Have a fab weekend, Fab Peeps!
xox
Aline
Aline is Wearing…
Clothes
Bikini – Vanilla Bae Beach Babe (Free Group Gift/Group is 50L to Join)
Earrings – Ysoral Luxe Earrings
Body   
Mesh Body – Maitreya Lara
Mesh Head – Lelutka Cate
Skin Applier –  Glam Affair Cate
Eyebrows– Jumo Britani
Eyes– Euphoric Dolly Babe Eyes
Tattoo – Sn@tch Filigree Sternum Tattoo
Eyeshadow – Lelutka Cate
Lipstick – Alaskametro Petal
Nails –Maitreya Lara
Hair – Magika Amy
Couches – Astralia Strawberry Armchair and Sofa (Free Group Gift/Group is 149L to Join)