Time to get some serious studying done.  I feel I've been lax in the cultivation of my grey matter.   As Poirot would call them "zee little grey cells".  So, I've gathered up some edifying reading material, and I shan't put down this serious tome until I am feeling decidedly more intelligent.  Now, where are my brainy specs?
Non-Blonde
The Free Dove is back with another of their great monthly hunts.  This time, featuring BlondeQueen!  They've gathered up some very professional looking garb to keep you on track with everything you need to get done today.  To take part, just join The Free Dove group for free, and look for the little kawaii cats hiding around the building.  You'll find 5 at The Free Dove, and 5 at the BlondeQueen mainstore.  Check out the key below for all the different goodies!
Sizes
Freya
Hourglass
Isis
Maitreya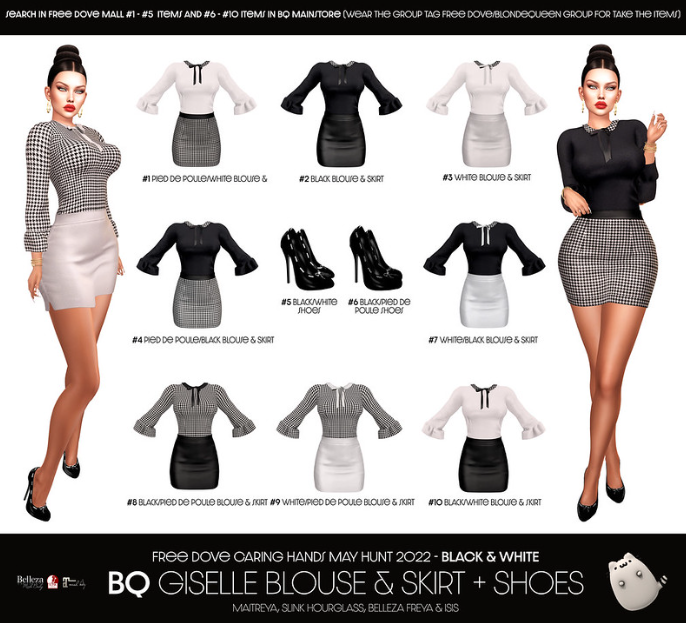 Happy Anniversary, Magika!
One of my absolute faves, Magika, is celebrating 16 years on the grid!  That's quite an accomplishment!  To celebrate, they're having a 40% off sale, and there's a new group gift.  The group is free to join currently, and with your group join, you'll be able to pick up these very versatile bangs that are a useful addition to any hair collection!  Also great for hiding scars! (ha!)
What are you doing to challenge yourself today?
(She says while wiggling her eyebrows teasingly)
xox
Aline
Aline is Wearing…
Clothes
Dress – BlondeQueen Giselle (Free Gift on the Free Dove Caring Hands Hunt/Group is Free to Join)
Book – Sweet Evil How to Book
Earrings – Ysoral Luxe Earrings
Body   
Mesh Body – Maitreya Lara
Mesh Head – Lelutka Cate
Skin Applier –  Glam Affair Cate
Eyebrows– Jumo Britani
Eyes– Euphoric Dolly Babe Eyes
Tattoo – Sn@tch Filigree Sternum Tattoo
Eyeshadow – Lelutka Cate
Lipstick – Lelutka Cate
Nails –Maitreya Lara
Hair – Magika Kayla (40% off During the Magika 16th Anniversary Sale)
Bangs – Magika 16th Anniversary Group Gift (Free Group Gift/Group is Free to Join)
Sim – Private