Easter is hopping closer and closer, and with that a great many Easter Egg hunts move into the forefront.  I was lucky to get alerted about the Aurelias Easter Egg Hunt and Spring Market, which is a really cute mini event and hunt nestled in the gorgeous Aurelias sim.  There's so much to explore, and it's a really nice sim to spend some time in.  You MUST check it out!
Egg Hunt!
The Aurelias Easter Egg Hunt and Spring Market opens today, and runs until April 20th.  You'll find some really pretty and affordable finds at the landing point on the carts, plus if you wander the sim in search of the Easter Eggs, you'll get lots of prizes, all for under 10L.  You can see all the prizes and items right HERE.  Here's what I picked up:
75L Hair by Exile in a full fatpack of colours, with style HUD
FREE Daisy cheek tape by Schadenfreude
1L Nail polish by Alaskametro with appliers for Maitreya, Omega and Slink (check out the closeup below!)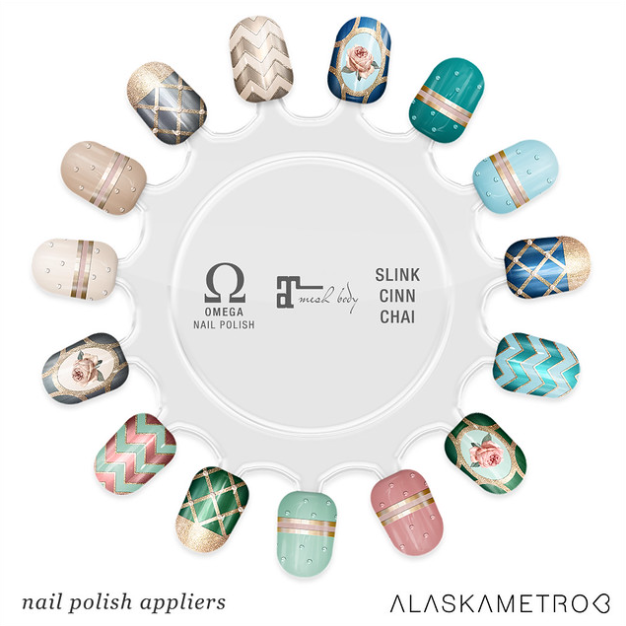 What will you find?
xox
Aline
Aline is Wearing…
Clothes
Top – Addams Piper
Pants – Addams Piper
Flowers – Schadenfreude Daisy Cheek Tape (Free Gift on the Aurelias Easter Egg Hunt)
Earrings – Ysoral Luxe
Body   
Mesh Body – Maitreya Lara
Mesh Head – Lelutka Cate
Skin Applier –  Glam Affair Cate
Eyebrows– Jumo Britani
Eyes– Euphoric Dolly Babe Eyes
Tattoo – Sn@tch Filigree Sternum Tattoo
Eyeshadow – Alaskametro Ocean Sunset
Lipstick – Lelutka Cate
Nails – Alaskametro Jewel Egg (1L on the Aurelias Easter Egg Hunt)
Hair – Exile Renee (75L on at the Aurelias Spring Market)
Pose – Foxcity Infatuation