Life isn't about waiting for the storm to pass…it's about learning to dance in the rain, my darlings!
Fabulous
As you all know, the FabFree St. Patty's Day hunt is here, and it's full of some amazing and wonderful prizes.  I had a fun time organizing this hunt, and I'm glad that we got some fantastic designers on board, and hope that you all have a blast hunting for our little glowing rainbows.  Today I'm showing off the prizes from Alaskametro and Loordes of London.  My super sparkly green dress is just 1L at Alaskametro, as well as the lovely nail polish (with Maitreya, Slink and Omega appliers for both manicure and pedicure – check out all the choices below)!  I paired these great prizes with the fabulous wrapped heels from Loordes of London (sized for Freya, Hourglass, Isis, Legacy, Maitreya, Physique and Venus) that were just too pretty to pass up.  They cost just 5L.
Dress Sizes
Maitreya
Hourglass
Physique
M with an Alpha Layer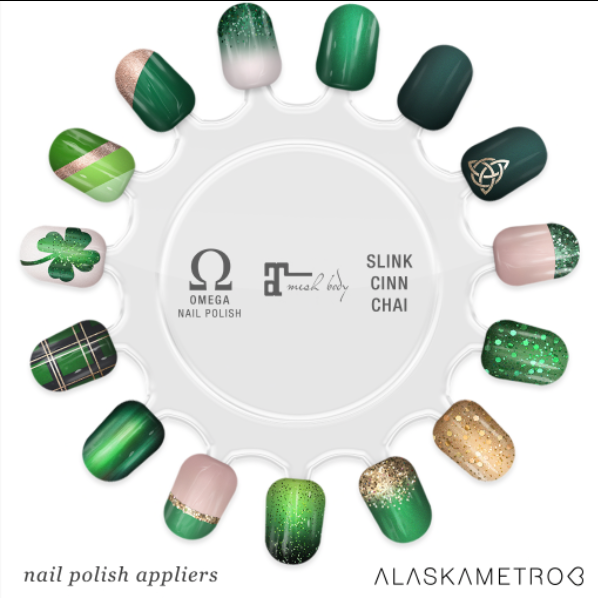 The FabFree St. Patty's Day Hunt starts today and goes all the way until March 25th.  We hope you love it!
xox
Aline
Aline is Wearing…
Clothes
Dress – Alaskametro Brandy (1L on the FabFree St. Patty's Day Hunt)
Shoes – Loordes of London Wrapped Strap Heels (5L on the FabFree St. Patty's Day Hunt)
Rings – Vibing Melanie
Body   
Mesh Body – Maitreya Lara
Mesh Head – Lelutka Cate
Head Applier –  Glam Affair Cate
Eyebrows– Jumo Britani
Eyes– Euphoric Dolly Babe Eyes
Tattoo – Sn@tch Filigree Sternum Tattoo
Eyeshadow –Adored Day & Night Liner
Lipstick – Alaskametro Gilded
Nails – Alaskametro Emerald Isle (1L on the FabFree St. Patty's Day Hunt)
Hair – Stealthic Penance
Pose – Foxcity Rain
Sim – Winter Moon