Did you know that the Christmas season isn't actually over yet?  Today is only the 10th day of Christmas, which means that there's plenty of time for celebrating still.  I'm still busy reveling until the 6th, and I hope you will too.
Epiphany
Ashmoot are taking part in one of my favourite traditions – and that's giving gifts for Epiphany!  When I was young, I'd always check in my stocking on January 6th to see if it had been filled!  You don't have to wait til the 6th for the gifts at Ashmoot, you'll find them all under the tree.  I clicked on the boxes and picked up the shorts for 10L, jacket for 20L and the little furry pompom earrings were free.  There are a few other goodies there too while you're at it.  It all goes away on the 6th though!
Sizes
Freya
Hourglass
Isis
Legacy
Legacy Perky
Maitreya
Physique Venus
Having a Snow-ball
I've often heard people ask if there are affordable ways to have a place to live in Second Life.  Rent can add up, and when you're working on a budget it's always nice to find somewhere that doesn't break the bank.  If that place is really beautiful as well, then even better!  The Snow Globe sim aims to create a fun community living experience in SL, on an affordable scale.   You can actually get a home with 300 prims for FREE if you become an active member in their community.  That means taking part in events such as bowling, movies, game nights and more.   If you're not so much into participating, you can still call Snow Globe home for 10L per week and 75 prims allotted to you.  Sound good?  Well head on over to the rental office HERE for further details!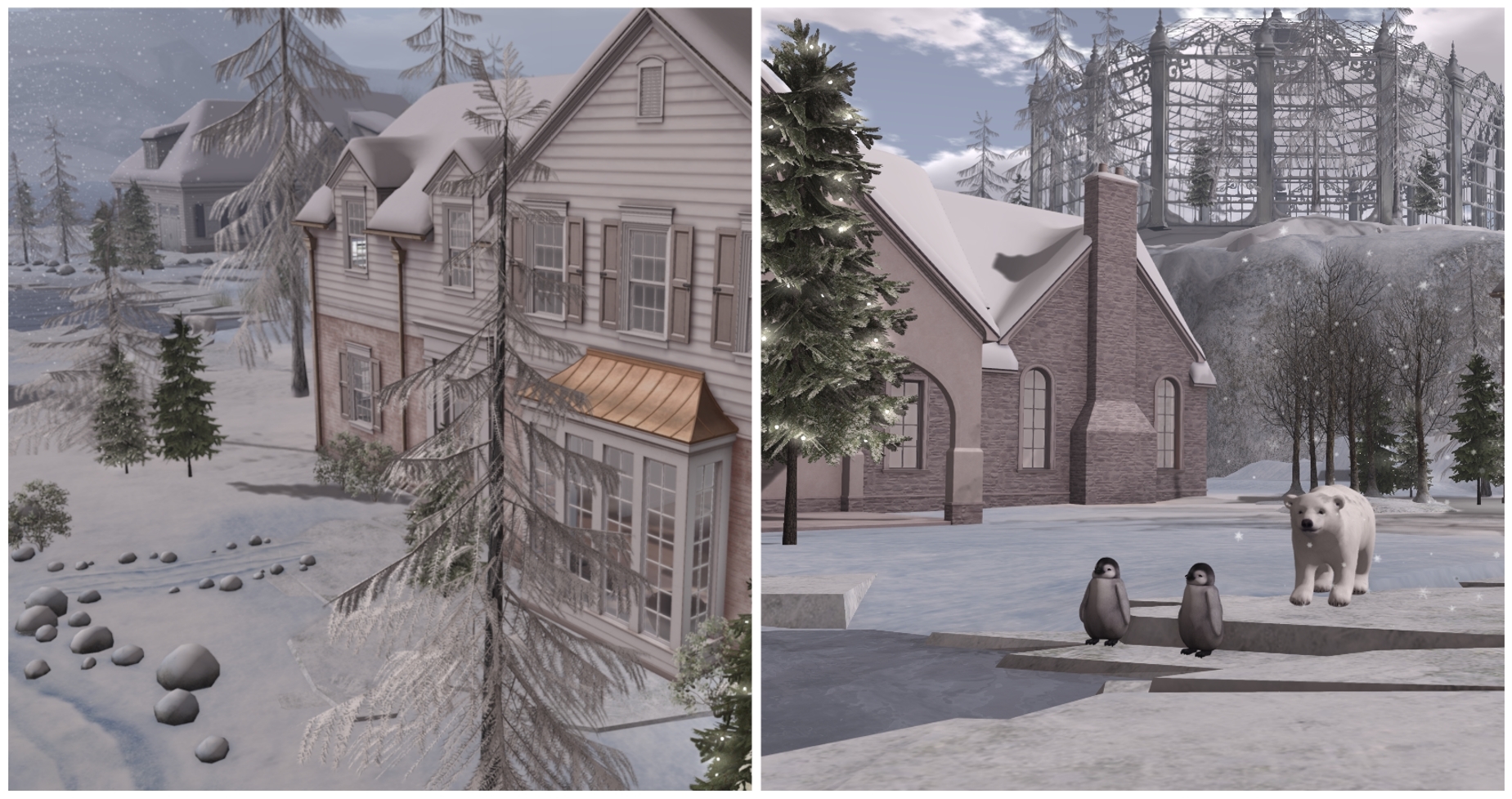 Happy (still) Christmas!
xox
Aline
Aline is Wearing…
Clothes
Jacket – Ashmoot Chiodo (20L for Epiphany)
Shorts – Ashmoot HW Shorts (10L for Epiphany)
Earrings – Ashmoot PomPom Earrings (Free Gift/No Group Join Required)
Top – Blueberry Cami
Boots – Breathe Tamari
Body   
Mesh Body – Maitreya Lara
Mesh Head – Lelutka Cate
Head Applier –  Glam Affair Cate
Eyebrows– Jumo Britani
Eyes– Euphoric Giselle
Tattoo – Sn@tch Filigree Sternum Tattoo
Eyeshadow – Lelutka Cate
Lipstick –  Lelutka Cate
Nails – Alaskametro Bonne Année
Hair – Tableau Vivant Mariposa
Pose – Infiniti Snowy
Sim – Snow Globe