What's the big news today, FabFree?  Two brand spankin' new and completely FREE mesh heads!  Let's dive into the info!
LeLutka Strikes Again!
Last year, we were all blown away by the generosity of the LeLutka team when they put out two mesh heads for members of their free to join group.  Well, it looks like lightning DOES strike twice, because here we go again with two more new and utterly free Lelutka Evo X heads!  One for females, and one for males!  I'm modeling the Kaya, which comes complete with all the bells and whistles, most of which I have no idea how to work (yet).  But, she's very pretty, and I had fun with her Elvish ears, turning myself into a bit of a Space Babe.  I dunno, just go with it.  Sadly, I couldn't wrangle a male posing partner quite yet to show off the new head for the gentlemen, but I will add a photo below so you can see it.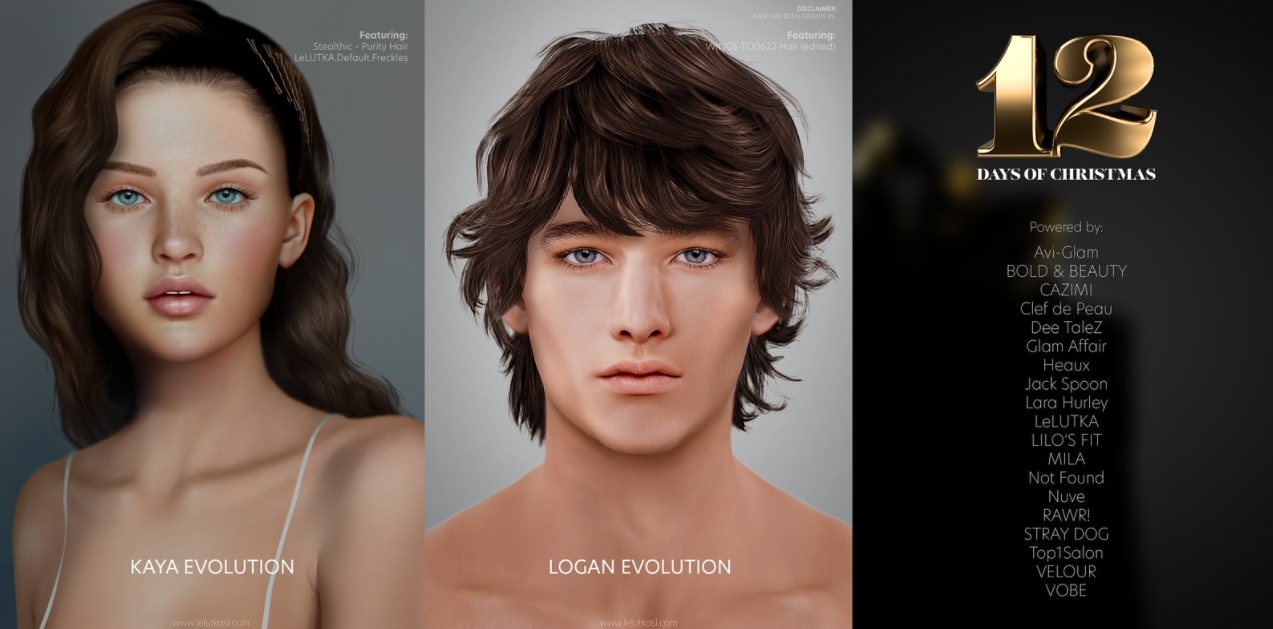 There are three locations you can go to grab these gifts.
Location 1
Location 2
Location 3
You'll need the free Lelutka group to get your gift, which you can join by pasting this code into chat:
secondlife:///app/group/b4820d07-1543-6d56-e6bd-ab848903ee9b/about
But…there's more…
Several other stores are participating in the gift extravaganza, and they've all put out matching goodies to go with these heads.  Here's the list of places to visit!
– Heaux – Bold and Beauty – RAWR – Glam Affair – Cazimi – Top1Salon – Stray Dog – JackSpoon –
– Not Found – VELOUR – Lara Hurley – VOBE – Clef de Peau – DeeTaleZ – Lilo Shapes – Nuve – Mila –
– Avi-Glam –
You've got until December 24 to pick these amazing gifts up! (You'll also find a special Christmas surprise in the box)
Happy head hunting!
xox
Aline
Aline is Wearing…
Clothes
Outfit – R2 Raiden, Shiran & Sou
Top – AsteroidBox Lepus
Body   
Mesh Body – Maitreya Lara
Mesh Head – Lelutka Kaya (Free Group Gift/Group is Free to Join)
Hair – Magika Midnight
Backdrop – Foxcity Space Babe
Pose – Belle Poses Nyx