Thank goodness it's the weekend, Fab Fam!  I was starting to go a bit cray cray out there!  I plan on taking some time to head off to some area of natural beauty, take some pictures and generally forget about everything that went down during the week.  Happily, along with my trusty camera I also have my trusty freebies!
Dress Me Up
I'm always happy for a new dress, and this one is quite cozy and versatile.  It's the latest group gift at BDR, and I super love it.  It comes with a very extensive HUD that includes some gorgeous patterns for the holidays, but also plenty of solids in case you're not quite ready for all that yet.  The BDR group is free to join, and there are so many awesome gifts there to pick up!
Sizes
Freya
Isis
Kupra
Legacy
Legacy Perky
Maitreya
Maitreya Petite
Hourglass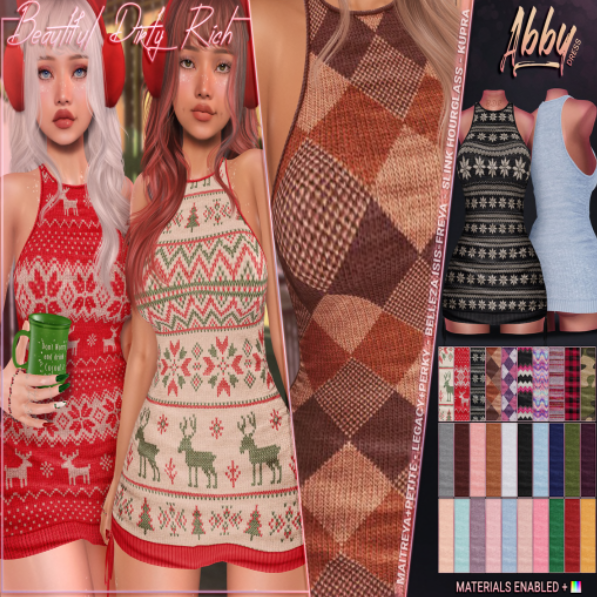 Falling into Place
Today's awesome deal is 350L of free store credit at FAGA!  I bought this lovely hairstyle there by joining the group for free (it's temporarily free to join), and then clicking on the big sign in the middle of the store which sent me 350L in store credit.  I then found a style that called to me, and bought it with said 350L!  How yummy is that?  This store credit is set to expire on the 29th, so I suggest you buy while you're there so you don't forget about it!
Have a fantastic weekend, FabFree!
xox
Aline
Aline is Wearing…
Clothes
Dress – BDR Abby (Free Group Gift/Group is Free to Join)
Bag – Reign Fall Vibes Traveler Bag
Body   
Mesh Body – Maitreya Lara
Mesh Head – Lelutka Cate
Head Applier –  Glam Affair Cate
Eyebrows– Jumo Britani
Eyes– Euphoric Dolly Babe Eyes
Tattoo – Sn@tch Filigree Sternum Tattoo
Eyeshadow – Alaskametro Bonfire
Lipstick – Lelutka Cate
Nails – Maitreya Lara
Hair – FAGA Villana (350L/Bought with 350L Store Credit/Group is Temporarily Free to Join)
Backdrop – Tropix Modern Architecture