I've been so busy the last few days sorting through Black Friday ads, that I've barely had a moment to myself.  Time to get a little zen, and a little green….and lots of free!
Hunting for Deals
Black Friday is all about the sales, but sometimes when all the dollar signs are floating about, you just really need a respite for some freebies.  Happily, at Vanilla Bae there's a little bit of both going on.  If you hunt around the store looking for the Christmas cookies (in the shape of Christmas trees), each one contains a free item of clothing.  It's not the easiest hunt in the world, won't lie – but you'll get there in the end.   If you know Vanilla Bae well, you'll know that their clothes are also strippable, so these free clothes are pretty darn awesome.  Don't wait too long – the hunt ends on the 29th!  Also, you can find all the sizes in the handy key below!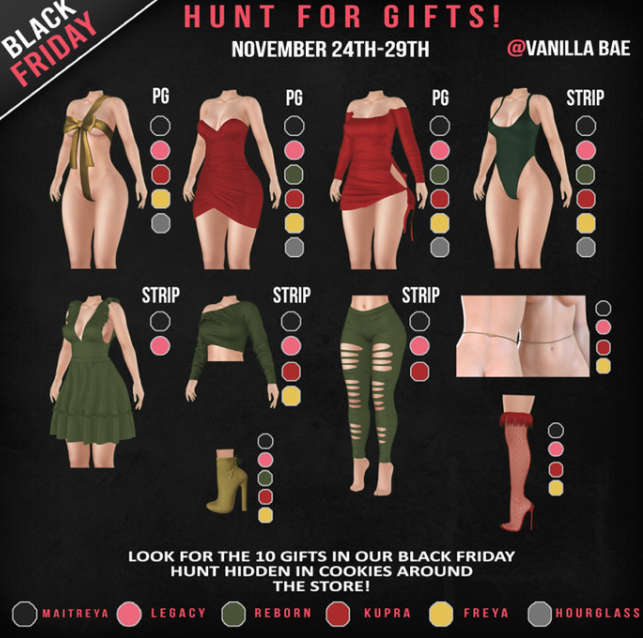 Zen hunting, it's a thing!
xox
Aline
Aline is Wearing…
Clothes
Top – Vanilla Bae Opal Crop Sweater (Free Gift on the Vanilla Bae Black Friday Hunt)
Pants – Vanilla Bae Nuria Leggings (Free Gift on the Vanilla Bae Black Friday Hunt)
Belly Chain – Vanilla Bae Naughty Body Chain (Free Gift on the Vanilla Bae Black Friday Hunt)
Body   
Mesh Body – Maitreya Lara
Mesh Head – Lelutka Cate
Head Applier –  Glam Affair Cate
Eyebrows– Jumo Britani
Eyes– Euphoric Dolly Babe Eyes
Tattoo – Sn@tch Filigree Sternum Tattoo
Eyeshadow – Pout! Day & Night Liner
Lipstick – Lelutka Cate
Nails – Maitreya Lara
Hair – Magika Itch
Pose – s'n'p Beauty