Oh FabFree, I can't tell you how happy I am that it's finally Friday!  It's time for a nice little snack, and some rather pretty and entirely autumnal sake to go with it.  I need some me time more than I can put into words, and it starts with this little Friday ritual right here.
We Continue to Hunt
I'm totally having fun showing off all the fun gifts on the FabFree Fallen Leaves & Frost Hunt.  I've got two awesome finds to show you today, starting with this cropped tank top from Masoom.  It's a bright fallish orange, perfect for relaxing around the house and looking cute while you're at it.  It's completely free, you just need to do a bit of hunting for it!
The second item I'm showing off is the extremely delicate and detailed sake set that I picked up at Ishiku.  They are constantly blowing me away with their sweet and perfectly crafted items.  You can pick up the sake cups, little box, tray and (my fave) the japanese maple leaves for just 5L each.  Look for the glowing rainbows at both sims, and you're well on  your way!
Top Sizes
Freya
Kupra
Maitreya
Maitreya Petite
Legacy
Legacy Perky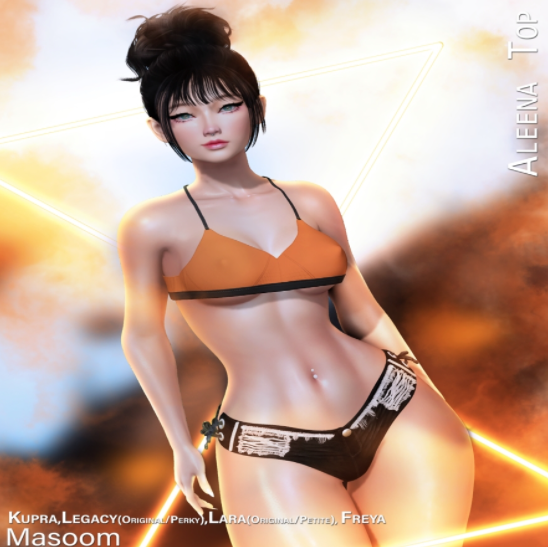 I hope you have a bit of "me" time this weekend too!
xox
Aline
Aline is Wearing…
Clothes
Top – Masoom Aleena (Free Gift on the FabFree Fallen Leaves & Frost Hunt)
Jeans – Fashionably Dead Retro Vacation Pants

Body   
Mesh Body – Maitreya Lara
Mesh Head – Lelutka Cate
Head Applier –  Glam Affair Cate
Eyebrows– Jumo Britani
Eyes– Euphoric Dolly Babe Eyes
Tattoo – Sn@tch Filigree Sternum Tattoo
Eyeshadow – Lelutka Cate
Lipstick – Lelutka Cate
Nails – Maitreya Lara
Hair – Wasabi Summer
Pose – Foxcity Kittie
Sim – Private
Decor
Food – Random Matter Jam Sammies
Tarts – Random Matter Tarts
Book – MVT Notebook of Secrets
Can of Flowers – Ishifuku Peach Tin With Flowers
Sake Cup – Ishiku Ochoko Sake Cup (5L on the FabFree Fallen Leaves & Frost Hunt)
Sake Tray – Ishiku Wooden Tray (5L on the FabFree Fallen Leaves & Frost Hunt)
Wooden Masu Box – Ishiku Wooden Masu (5L on the FabFree Fallen Leaves & Frost Hunt)
Japanese Maple Leaves – Ishiku Japanese Maple Leaf (5L on the FabFree Fallen Leaves & Frost Hunt)