So It Begins!
At long last, the FabFree Fallen Leaves & Frost Hunt has started. This hunt celebrates a period of transition where we are still in fall, but heading into winter. To kick off the hunt, I took a moment to enjoy the falling leaves, a visual reminder of the changing season, while wearing an incredibly gorgeous prize from the hunt. 
My gorgeous dress and boots are the gift on the hunt from Telsiope's Couture. The dress includes a texture change hud that allows you to change the colours and patterns of the dress to several different options. The high boots come in black only. The item also inclues an adorable and cozy black scarf, it just couldn't fit under my long hair. This prize includes all 3 items and it costs only 5 Linden on the hunt. 
Sizes Included (Dress)
Lara
Freya
Isis
Venus
Physique
Hourglass
Sizes Included (Boots)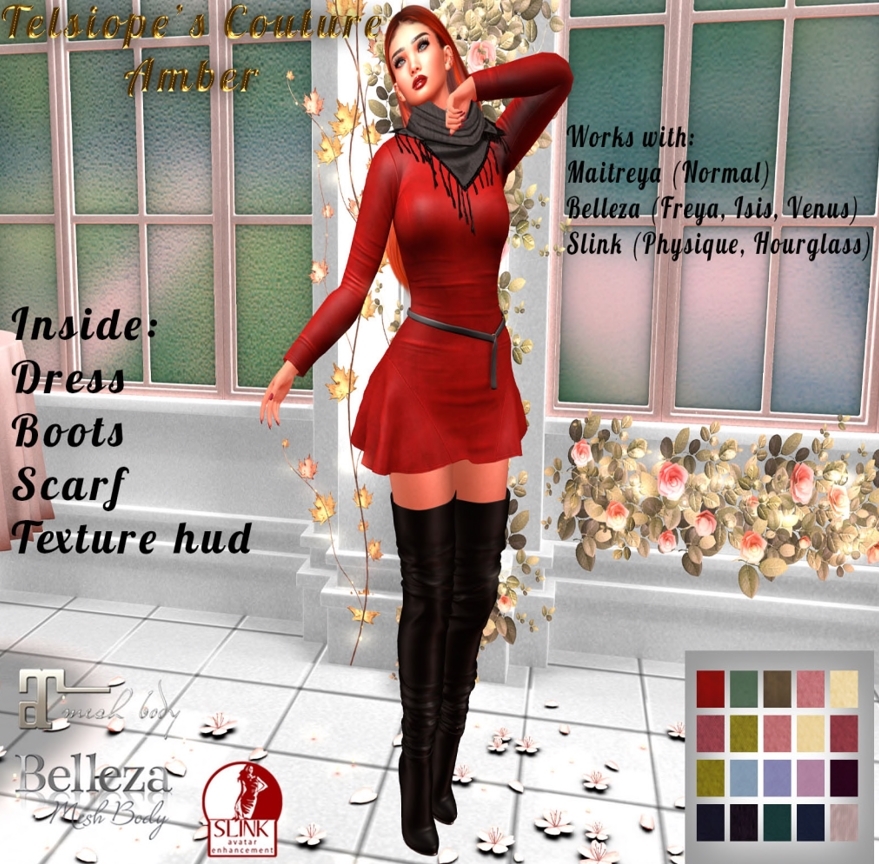 More posts covering the hunt are coming soon, FabFree!
xx
-Caroline
Caroline is Wearing…
Clothes & Accessories
Dress & Boots – Telsiope's Couture Amber (5L on the FabFree Fallen Leaves & Frost Hunt)

Body

Hair – Magika Maeve
Mesh Body – Belleza Freya V6
Mesh Head – Lelutka Lilly 3.1 – EvoX
Head Skin – Glam Affair Joy – Honey
Body Skin – 7 Deadly S[K]ins Blaze (Group Gift/ Group is Temporarily Free to Join) Previously blogged here.
Eyes – Lelutka Lilly 3.1
Nails – Belleza Freya V6
Photo Location – Luane's World