I must confess that I have a penchant for chicken nuggets.  To be fair, I don't think I've ever met anyone who doesn't enjoy them.  Dipped in a bit of barbecue sauce… le sigh!  Wait, wasn't I supposed to be discussing freebies?  Oh right!
At Addams
There's a little hidden (ish) gift at Addams right now that will only be around for this weekend!  They have an outfit out on discount at the moment, and if you look at the ad you'll see there's also a gift for members of the Addams VIP group.  The Addams group is only 5L to join, and there are plenty of group gifts to pick up.  This little bralette comes in both see-through and opaque versions, with plenty of lovely colours in the HUD.  Don't wait too long, the gift is really only supposed to be around this weekend.  Take a peek at the photo below to see where to click to get your gift.
Sizes
Freya
Isis
Kupra
Maitreya
Perky
Petite
Hourglass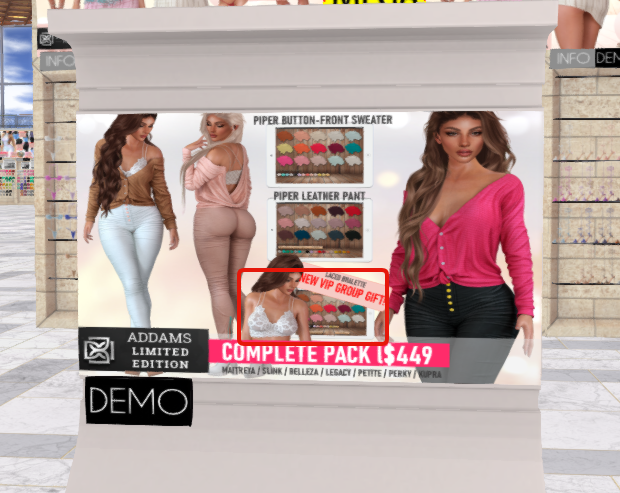 And Some Vanilla
The sweet little choker I've got on is a free gift over at Vanilla Bae.  No need to join a group to get this little gift, just click on the box and buy for 0L.  You'll find this gift located on a little table by the events boards.  There are plenty of colours in the HUD, and it comes sized for Kupra, Legacy and Maitreya as well as an unrigged option.
Hmm… sweet & sour or barbecue?
Decisions!
xox
Aline
Aline is Wearing…
Clothes
Top – Addams Piper Crochet Lace Bralette (Free Group Gift/Group is 5L to Join)
Skirt – Tetra Dina Denim Ripped Skirt
Choker – Vanilla Bae Valeska (Free Gift/No Group Join Required)
Food – Dots Fast Eats Nugget Box
Bracelet – Reign Boho Bracelet
Body   
Mesh Body – Maitreya Lara
Mesh Head – Lelutka Cate
Head Applier –  Glam Affair Cate
Eyebrows– Jumo Britani
Eyes– Euphoric Dolly Babe Eyes
Tattoo – Sn@tch Filigree Sternum Tattoo
Eyeshadow Applier – Alaskametro Bonfire
Lipstick Applier – Lelutka Cate
Nails – Maitreya Lara
Hair – Magika Energy
Sim – Private