I love picnics with an unending passion.  Especially if someone else has packed them for me!  There's something romantic about foods all wrapped up nicely in a basket, lovingly packaged that makes me feel like Christmas on a hot day (Is this what it's like for you, Southern hemisphere? jk….sorta).  I'm having a flashback to one of my favourite movies – A Room with A View – when they head off to the Tuscan countryside for a bit of a ramble and a picnic on the hillside.  Lovely, don't you think?
Happy Rez Day!
Much excitement going down over at Poème!  The very lovely Elysiane Sapphire is celebrating 11 years in Second Life with loads of fun to be had.  She's organized a fun hunt (called Bikini Fest – I dig it!) and there are loads of lovely prizes out to find.  Just look for the little surfboards hidden around the shop, each prize costs just 11L.  I picked up the Soft Summer Nights dress and I accessorized with the Summer Island Bracelets and sandals.  The perfect look for an afternoon picnic! There are loads of other lovely prizes on the hunt as well, so make sure you take a look at the vendor photo below.  You've got until August 15th to take part!
Dress Sizes
Freya
Isis
Venus
Legacy
Maitreya
Tonic Curvy
Tonic Fine
Physique
Hourglass
Ocacin
Voluptuous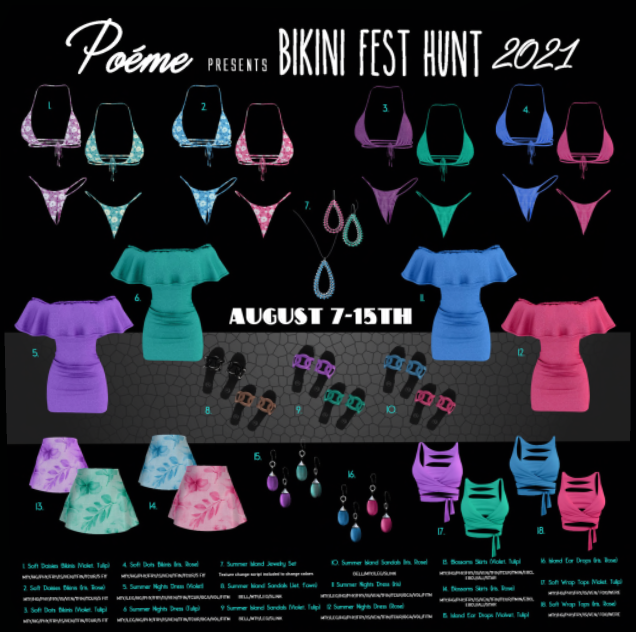 Ooh, salmon paté anyone?
xox
Aline
Aline is Wearing…
Clothes
Dress – Poème Soft Summer Nights Dress (Tulipi) (11L on the Poème Bikini Fest Hunt)
Bracelets- Poème Summer Island Bracelets (11L on the Poème Bikini Fest Hunt)
Shoes – Poème Summer Island Sandals (11L on the Poème Bikini Fest Hunt)
Rings – Vibing Emery
Bag – Zenith Leather Clutch
Earrings – Random Matter Caithe

Body  
Mesh Body – Maitreya Lara
Mesh Head – Lelutka Cate
Head Applier –  Glam Affair Cate
Eyebrows– Jumo Britani
Eyes– Euphoric Dolly Babe Eyes
Tattoo – Sn@tch Filigree Sternum Tattoo
Eyeshadow Applier – Lelutka Cate
Lipstick Applier – Lelutka Cate
Nails – Maitreya Lara
Hair – VCO Hyori
Sim – Luane's World