Gachas.  You love them or you hate them.  Or you have a love hate relationship with them, that leans rather often towards the love, but then veers off in the hate direction rather abruptly so that you stomp off in frustration in your 6 inch heels while muttering to yourself about evil machines.  It's not like I'm speaking from experience, I swear!
But My Fave!
I've said it once, I'll say it again – Amitomo is a gacha that I never regret playing, and I rarely miss playing one of their new releases.  They consistently put out cute, well-constructed and wildly affordable gachas that never leave me with that gacha player's remorse.  Their latest set is out at Kustom9 and is just 69L per pull.  You'll totally walk away with something you can wear, as usual with their offerings.  I played 4 times and managed to get this shirt, the skirt (sized for Maitreya bodies) the cute bubble gum and even the little butterfly belt.  Not bad!  Also, often if I don't win one of the items I really need in my life, I'll nip into Marketplace and search for the gacha, and once you sift through the super overpriced ones, you can find some good deals.  It pays to look on MP!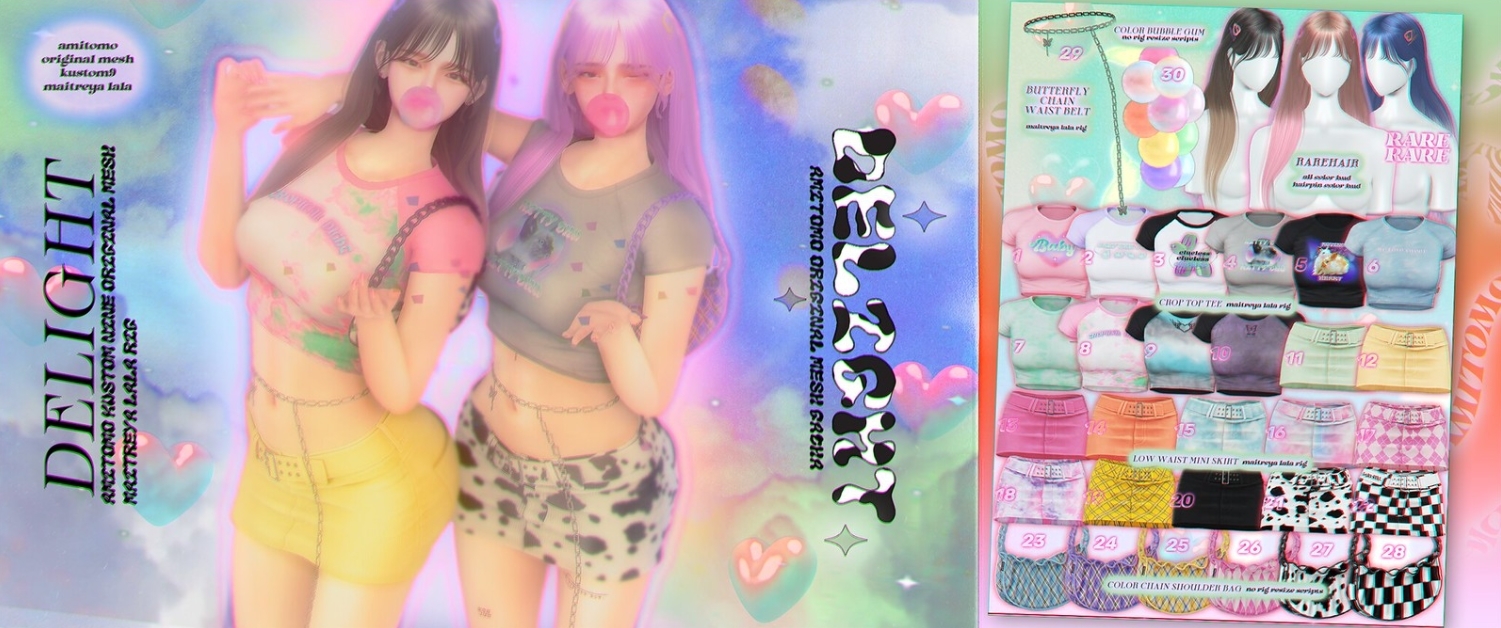 This round of Kustom9 is running until August 10th!
Good Luck!
xox
Aline
Aline is Wearing…
Clothes
Top – Amitomo Delight # 6 (69L per pull at Kustom9)
Skirt – Amitomo Delight # 16 (69L per pull at Kustom9)
Belt – Amitomo Delight # 29 (69L per pull at Kustom9)
Gum – Amitomo Delight #30 (69L per pull at Kustom9)
Body  
Mesh Body – Maitreya Lara
Mesh Head – Lelutka Cate
Head Applier –  Glam Affair Cate
Eyebrows– Jumo Britani
Eyes– Euphoric Dolly Babe Eyes
Tattoo – Sn@tch Filigree Sternum Tattoo
Eyeshadow Applier – Lelutka Cate
Lipstick Applier – Lelutka Cate
Nails – Maitreya Lara
Hair – Moon Sunflower
Pose – BellePoses Joana
Backdrop – Anxiety Polarize