After all that adventure on the high seas, it's time to settle down into a life of quiet in my backyard.  I'm just watching the morning glories grow, feeling that late spring sun on my skin and slowly swinging back and forth, taking it all in.  It's nice to have adventure, but sometimes a gal has just got to chill out too.
In the Name of Love
There's a new group gift at Belle Époque to celebrate Pride!  This cropped tank top is an excellent addition to any rainbow outfit, since it matches so well with shorts, skirts, jeans…you name it.  I got it by joining the Belle Époque group for just 10L, then clicking on the vendor.  There are always new goodies appearing, so this is an excellent group to be a part of!
Sizes
Legacy
Maitreya
Legacy Perky
Maitreya Petite
Swing on Down
Speaking of Pride, check out this amazing rainbow swing chair that I got over at Kim's Kreations!  I am pretty enamoured with the rainbow hues, of course, but it's all just so cute and an excellent feature to add to any garden.  The crazy part is, it's completely free!  Yeah…I know!  I got it by joining the Fantastic Mondays group, then clicking on the gift box right by it.  Fantastic Mondays is a new discount event where you'll find a bunch of awesome items priced at 99L each week.  Excitingly, stores also have gifts out for members of the group, so check out the notecard that lists all the participants.  You can get it at Kim's Kreations while you pick up this free gift!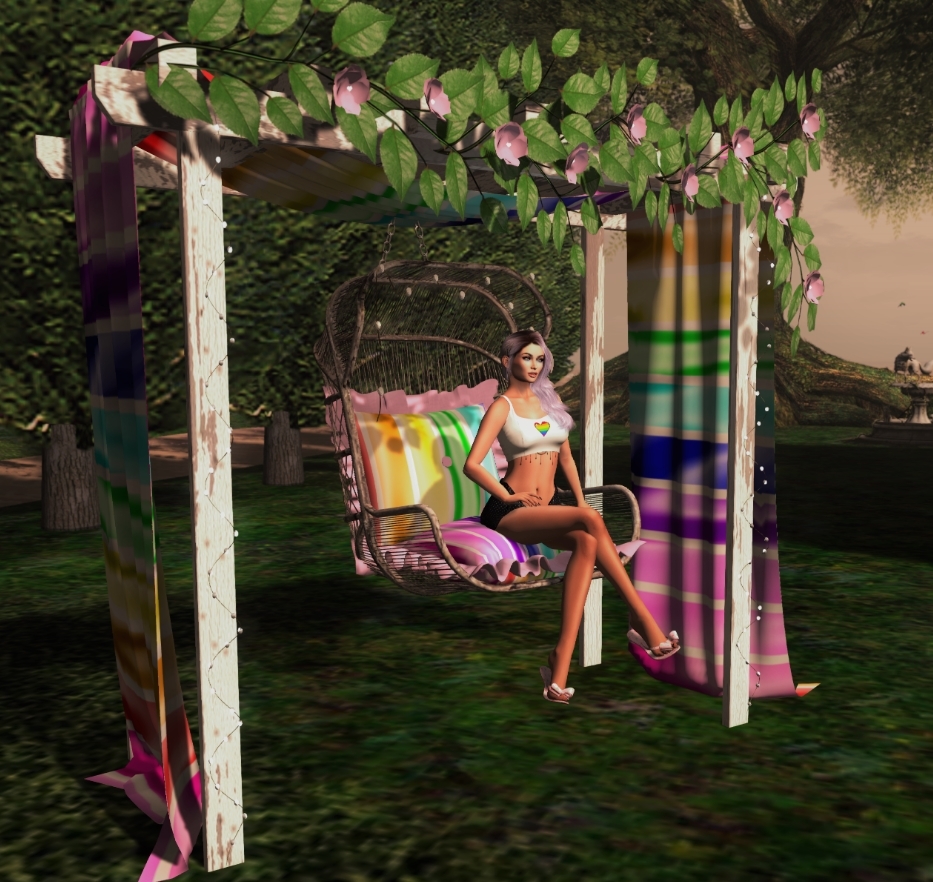 Ah, this is the life!
xox
Aline
Aline is Wearing…
Clothes
Top – Belle Epoque Pride 2021 (Free Group Gift/Group is 10L to Join)
Shorts – Seniha Tiamat Short
Shoes – Enchanté Ruby FlipFlops
Body  
Mesh Body – Maitreya Lara
Mesh Head – Lelutka Cate
Head Applier –  Glam Affair Cate
Eyebrows– Jumo Britani
Eyes– Euphoric Dolly Babe Eyes
Tattoo – Sn@tch Filigree Sternum Tattoo
Eyeshadow Applier – Alaskametro Spring Beauty Book
Lipstick Applier –Alaskametro Spring Beauty Book
Nails – Maitreya Lara
Hair – Magika Sunrise

Chair and Pergola – Kim's Kreations Shabby Pride Draped Pergola Hanging Chair (Free Gift for Members of Fantastic Mondays Group/Group is Free to Join)