Sometimes it takes a bit of doing to be proud of who you are.  There are days where everything seems a bit off, and no amount of cheerful self-appreciation will shift that icky feeling.  However, one must soldier on.  Bit by bit, one gets to the point of loving one's own quirks and foibles.  I for one, am pleased with my penchant for collecting piles of stickers, for painting my toenails blue and for always skipping a step on my way up a stairwell.  Sometimes it's something deeper, like how we look, who we love or what we stand for – so dig deep and be proud of who you are, because you're unique from the top of your head down to your blue toenails.
Miss Thang
One of my absolute faves, Miss Chelsea, is back with a new group gift for Pride.  This cute tank top (love those added safety pins) comes with an HUD to change to two different textures (check out the vendor below) and looks just super cute.  You can get yours by joining the Miss Chelsea group for 100L, then clicking the vendor on the front desk (sometimes things take a while to load at this location – a quick tp in and out usually sorts it for me).  There are plenty of other gifts on the counter too, so totally worth it!
Sizes
Freya
Hourglass
Legacy
Maitreya
Perky
Petite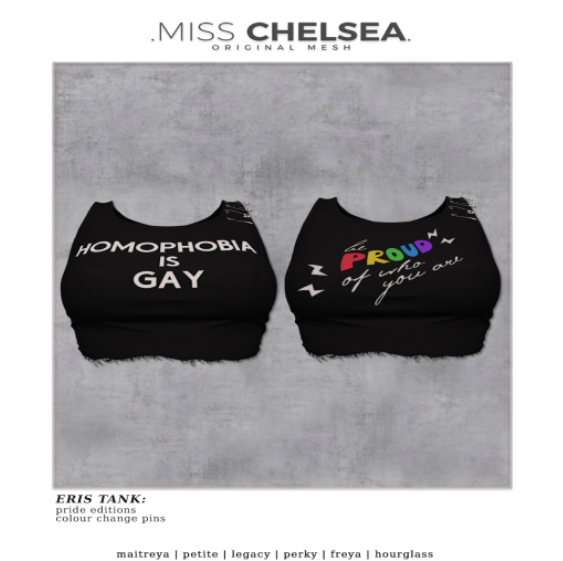 And Beyond
I picked up this jean skirt that goes perfectly with my new top over at the WIP Event.  As I mentioned yesterday, you'll find lots and lots of free gifts there in celebration of their 1st anniversary.  You'll find this jean skirt at the Beyond booth, and I'm sure you'll be able to pair it with a great many different tops since it's so versatile!  The WIP Event runs until June 22nd.
Sizes
Freya
Kupra
Legacy
Maitreya
You do you, FabFree!
xox
Aline
Aline is Wearing…
Clothes
Top – Miss Chelsea Eris (Free Group Gift/Group is 100L to Join)
Skirt – Beyond Gianna (Free Gift at WIP/Group is Free to Join)
Pizza – Tentacio Love is Love Pizza
Body  
Mesh Body – Maitreya Lara
Mesh Head – Lelutka Cate
Head Applier –  Glam Affair Cate
Eyebrows– Jumo Britani
Eyes– Euphoric Dolly Babe Eyes
Tattoo – Sn@tch Filigree Sternum Tattoo
Eyeshadow Applier – Lelutka Cate
Lipstick Applier –Lelutka Cate
Nails – Maitreya Lara
Hair – VCO Yurim
Backdrop – The Bearded Guy Splash