Happy Friday, FabFree!   I'm feeling free as a bird and as colourful as anything, ready to launch into my weekend adventures.  Or maybe with these rainbow wings, I'll fly into them, because…why not?
Werx it Out
Over at Werx, you'll find a big pack of fun pride themed gifts which are 3L for members of their free to join group.  Inside you'll find this top, knickers, keychain and rainbow wings, which look super cute together and please me no end.  Happily, you'll also find versions for the guys too, so you gents aren't left out of this one! There are also a few other fun bits in the box too, which you can see in the vendor photo below.
Sizes
Legacy Perky
Alice
Altamura
Freya
Hourglass
Isis
Maitreya
Legacy
Physique
Tonic Curvy
Tonic Fine
Venus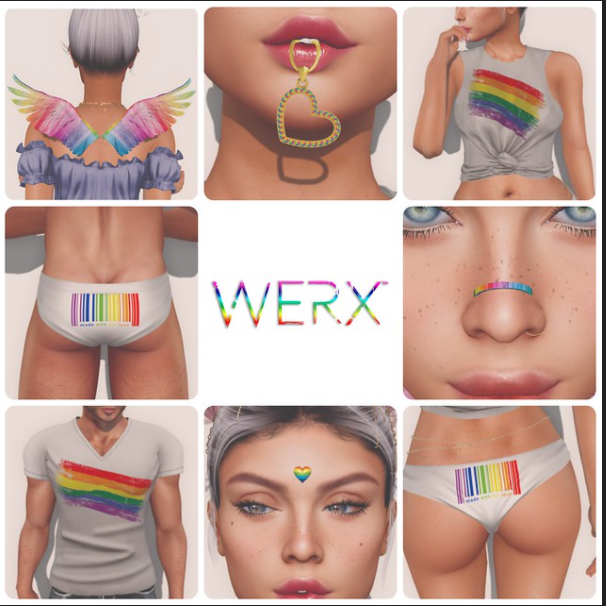 Happy Weekend, FabFree!
xox
Aline
Aline is Wearing…
Clothes
Top, Knickers, Wings & Keychain – Werx Gals Shirt (3L Gift/Group is Free to Join)
Body   
Mesh Body – Maitreya Lara
Mesh Head – Lelutka Cate
Head Applier –  Glam Affair Cate
Eyebrows– Jumo Britani
Eyes– Euphoric Dolly Babe Eyes
Tattoo – Sn@tch Filigree Sternum Tattoo
Eyeshadow Applier – Lelutka Cate
Lipstick Applier –Lelutka Cate
Nails – Maitreya Lara
Hair – Truth Parker
Sim – Private