It's an easy breezy kind of day, FabFree!  I'm hanging out on the dock, eschewing reality with a firm hand.  I'm not usually one for swimming in lakes.  I had a run in with a snapping turtle once in my younger days, and I've never quite enjoyed their murky depths as I once did.  Instead, I just hang out on the dock looking fabulous and reading mind-edifying fashion magazines!
Feeling Blue…Berry!
I've been waiting with bated breath for the latest group gift from Blueberry, and it does NOT disappoint.  This super sweet frilly bikini is just one of the TWO awesome looks you'll find lurking in group notices.  Splish and Splash are both gorgeous never-take-it-off-all-summer type of bikinis in a full fatpack of lovely hues.  Get this though, they ALSO happen to have a little wedgie option so that you can give a bit more of a peek of your assets.  Even better?  The little wedgie removal animation that comes with.  I was laughing for ages!  You can get yours by joining the Blueberry group for just 20L and checking in notices!  Love it!
To join the Blueberry group, just copy and paste this link in local chat:  secondlife:///app/group/15a9ea63-fc80-0534-d878-1dab689ccafb/about
Sizes
Freya
Hourglass
Isis
Kupra
Legacy
Maitreya
Physique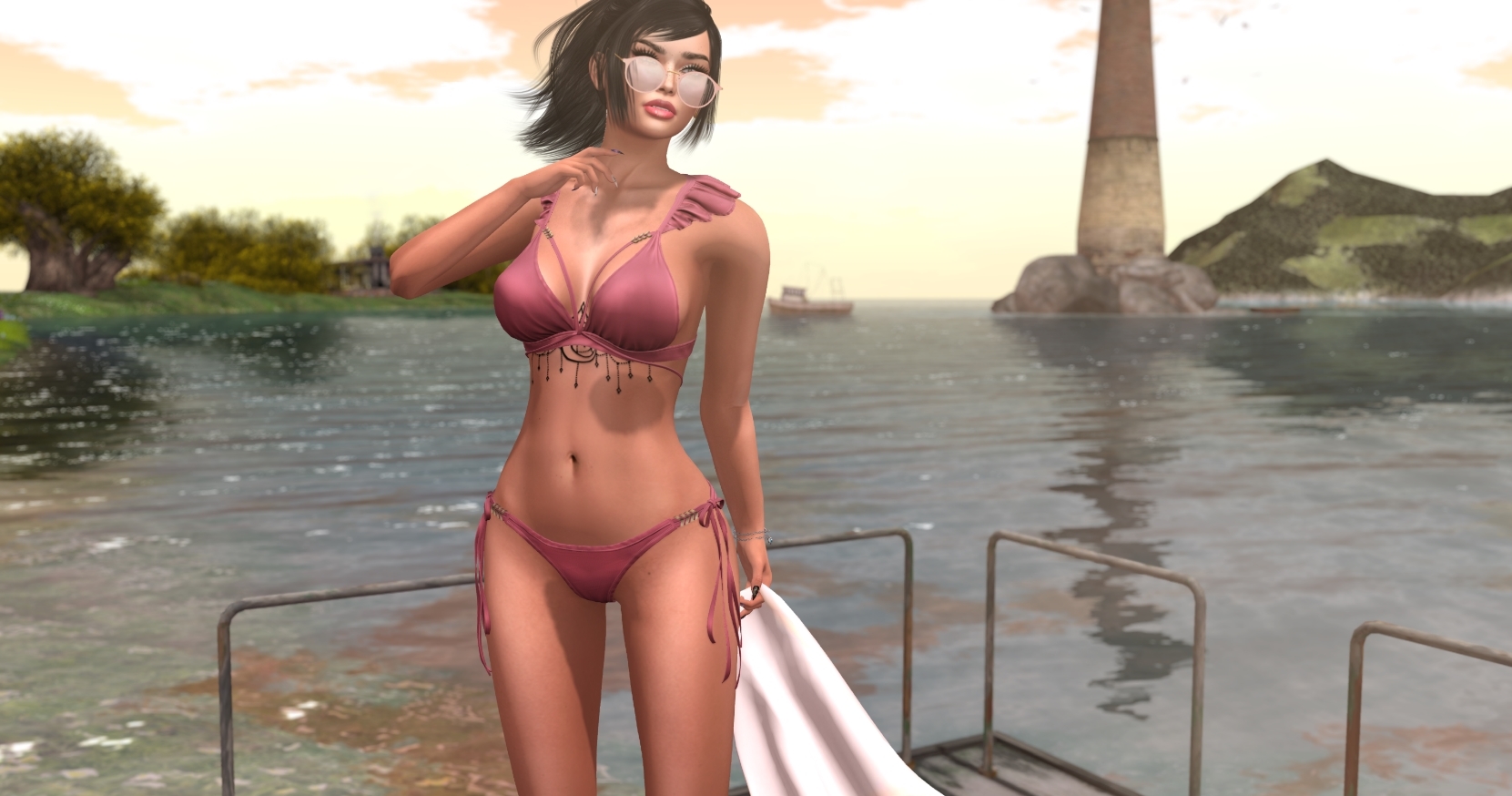 Exiled at Sea
Are you also in the  mood for some completely free and utterly charming hair?  I knew you'd say yes.  Exile have a new, free hairstyle out at The Free Dove!  It's so perfect for a nice breezy day at the beach, and comes in a huge fatpack of colours.  You're sure to find one that fits your look perfectly!  To get yours, join the Free Dove group for free, and click on the vendor in the hair section.  Yay!
Maybe I can also get some trashy novel reading done… it's a rough life!
xox
Aline
Aline is Wearing…
Clothes
Bikinis – Blueberry Splish Splash (Free Group Gift/Group is 20L to Join)
Bracelet – Cae Malia
Sun Glasses – Enchante' Madera Sunglasses
Body  
Mesh Body – Maitreya Lara
Mesh Head – Lelutka Cate
Head Applier –  Glam Affair Cate
Eyebrows– Jumo Britani
Eyes– Euphoric Dolly Babe Eyes
Tattoo – Sn@tch Filigree Sternum Tattoo
Eyeshadow Applier – Lelutka Cate
Lipstick Applier – Pout! Baby Doll
Nails – Nylon Outfitters Celestial Nails
Hair – Exile Glinting Light (Free Gift at The Free Dove/Group is Free to Join)
Pose – Foxcity Bebe
Sim – Luane's World