Some days I like to really weave a story around my outfit.  Here's my premise today:  a new art exhibit, it's a black tie affair, a brand new gown is donned.  The only problem is that the lovely gentleman taking me to the exhibit has found the dress to be far too distracting, and it looks like we may be late.  Oh well, a bit of champagne when we arrive will clear up any timing issues that may crop up!
Hot Holly
I was pointed in the direction of this jaw-dropping gown by Amani by FabFree community member Sitlan Breil (shoutout to Telsiope's Couture!) – it is completely gorgeous and comes in both black and red.  You'll find this amazing look that is sized for Maitreya (including the shoes – and a pair of earrings that I didn't add) on Marketplace for just 25L.  That's a pretty sweet deal that will surely have heads swiveling in your direction!  Here's the front view, just so you can soak it alllll in: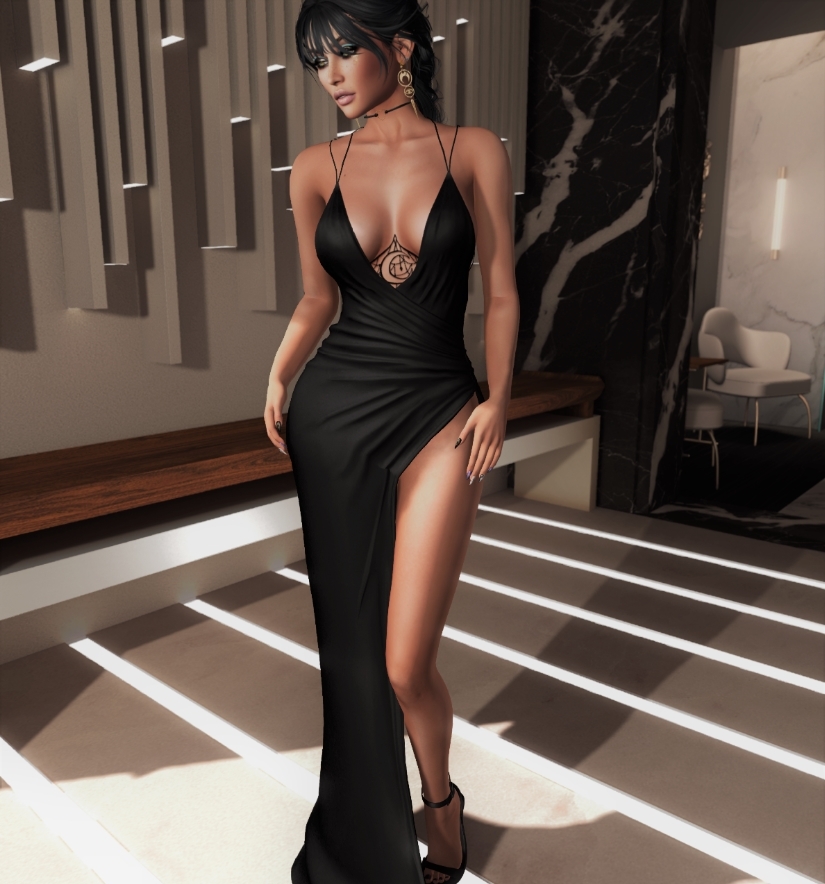 Modern art really isn't my thing anyway!
xox
Aline
Aline is Wearing…
Clothes
Dress & Shoes – Amani Holly (25L on Marketplace)
Earrings – Koii Goetia
Choker – Kibitz Twisted Heart Choker
Body  
Mesh Body – Maitreya Lara
Mesh Head – Lelutka Cate
Head Applier –  Glam Affair Cate
Eyebrows– Jumo Britani
Eyes– Euphoric Dolly Babe Eyes
Tattoo – Sn@tch Filigree Sternum Tattoo
Eyeshadow Applier – Alaskametro Cyberspace (Available at Uber)
Lipstick Applier –Alaskametro Rose Gold
Nails – Maitreya Lara
Hair – Monso Hunkaa
Pose – Foxcity Delicate
Backdrop – Foxcity The Agency