I do love creating dark looks on occasion. I wanted to capture a "beautiful monster" look here. On my travels today, I also discovered a beautiful dark sim called Legion of Immortals.
Garner Some Attention
This sexy and dark outfit is a 25L hunt prize at Short Leash & ATCSL's 3rd Birthday Hunt. The set includes the pasties and the outfit. This is one of 5 packs to find on the hunt. This pack comes with red and orange decoration on the ruffles, and the other packs come in a variety of colours that you can see in the hunt key below. The base colour for the pasties and the outfit, however, is black. I can confirm that this outfit definitely garners some attention! The Short Leash & ATCSL's 3rd Birthday Hunt ends on April 25th, so go grab this sexy set before it's gone for good!
Sizes Included
Physique
Hourglass
Lara
Freya
Venus
Isis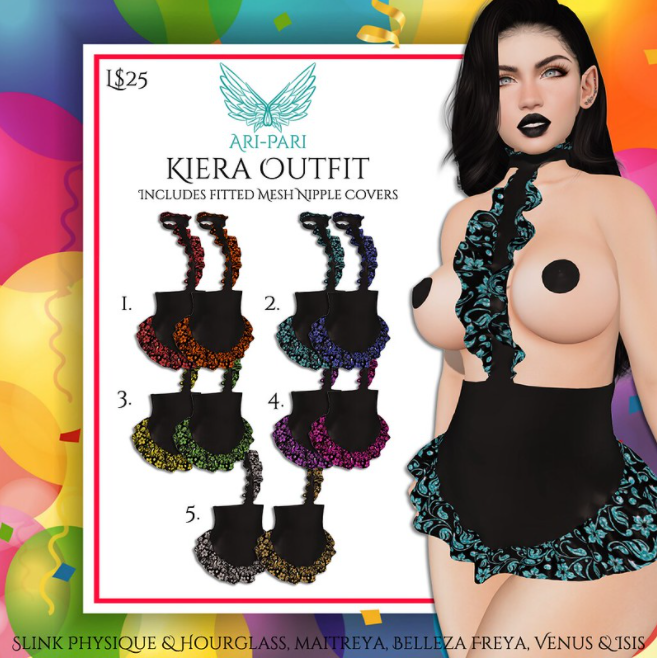 Decorative Horns
These horns are really beautiful. They include the horns themselves, decorative dangling jewelry, and a colour change hud. These are a new release that you can pick up at Dark Side 6. Just walk up to EscalateD's booth and these babies are yours for only 10 Linden!
Black Lips
I realize this may be an older freebie, but I needed to find a perfect black lipstick for this outfit, and Izzie's had the trick. These amazing lips have been updated to BOM for a variety of heads and styles, and the classic BOM fit my Genus head perfectly. You can grab this lipstick for free (no group required) at Izzie's main store.
Appliers Included
Catwa
Genus
LAQ
Omega
LeLutka
Genus
System tattoo layers for classic avatars
BakesOnMesh system tattoo layers
Crime Shadows
The last item I have to share today is the beautiful crime eyeshadows, which are a group gift at Ives. The group costs 99L to join. This item comes in BOM layers only and they are gorgeous.
Until next time, FabFree!
xx
-Caroline
Caroline is Wearing…
Clothes & Accessories
Outfit & Pasties–  Ari-Pari Kiera Outfit (L$25 Hunt Prize on the Short Leash & ATCSL's 3rd Birthday Hunt )
Shoes – Pure Poison Alison Boots 
Horns – .EscalateD. Luighseach's Horns  (10 L at Dark Side 6)
Body

Hair – .EscalateD. Sinead Duo Mirror- Naturals Universal Hud (Available at Dark Side 6)
Mesh Body – Belleza Freya
Mesh Head – Genus Project Genus Babyface
Skin – 7 Deadly S[K]ins Kendal Caramel
Eyelashes Pout! Natural Lashes Set 001 (Free Group Gift/ Group is Free to Join) Previously blogged here. 
Eyes– Euphoric Justine Eyes Applier
Eyeshadow – Ives Crime Eyeshadows (Group Gift/ Group costs 99 L to join)
Lipstick – Izzie's Black Lipstick (Gift) (Free Gift)
Tattoos- Wyld Wynter The Djinn's Garden (Arms), The Djinn's Lamp (Leg), and The Djinn's Binding (Chest)
Nails – Belleza Freya
Photo Location – Legion of Immortals