There's something infinitely 80's and infinitely summer about roller skating outfits.  Two things I enjoy thoroughly!  I'm all about new wave music, bright sunshine, and general laissez-faire attitudes.  Throw in a bit of bubblegum and fizzy drinks (probably not at the same time though) and you've got the recipe for a very happy Aline.
Sexy!
My sexy little roller skating outfit is completely and entirely free, and I'm living for it!  I picked it up at Miix Event as they're having one of their famous little hunts.  Just join the Miix Event group for free, then hunt for the little ice cream cones that are hiding around the event.  I picked up the tank top, shorts, ice cream cone and even the roller skates, socks and armbands (these last two come with appliers for Maitreya, Belleza and Omega, as well as System Layers).  I super love the roller skates because they actually animate your avatar to skate when you're moving!  Soooo good.
Sizes
eBody
Legacy
Slink
eBody Curvy
Freya
Hourglass
TMP
Isis
Maitreya
Legacy Perky
Venus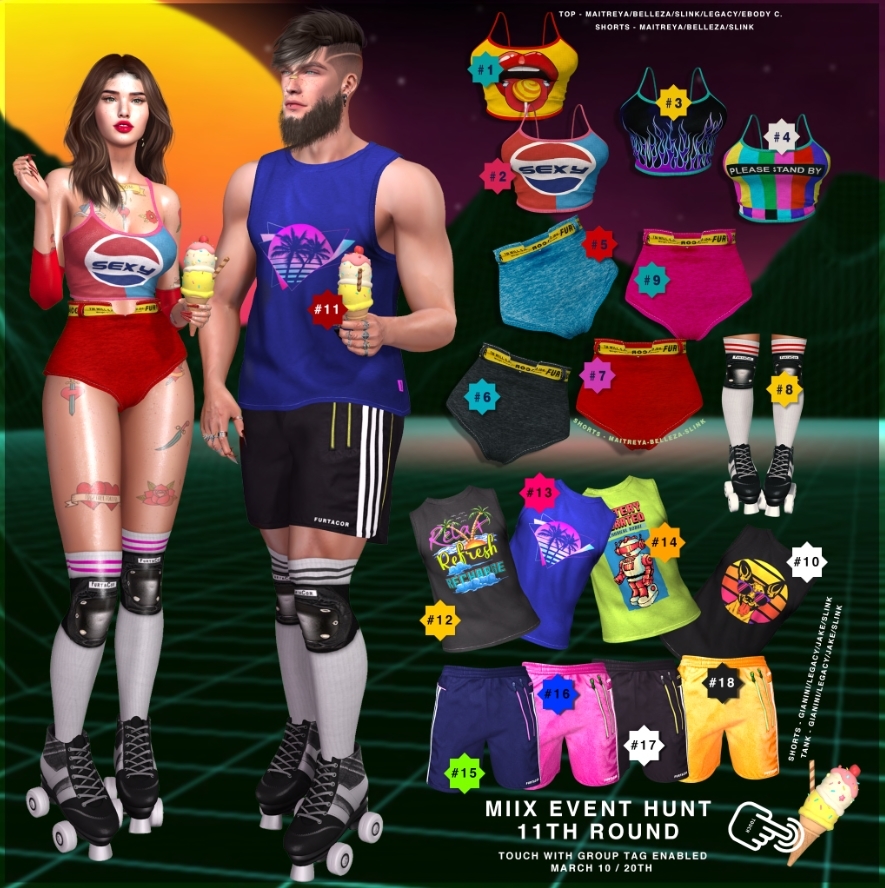 This round of Miix Event is running until March 20th so don't wait!
xox
Aline
Aline is Wearing…
Clothes
Top – FurtaCor CSH Top (Free Gift on the Miix Event Hunt/Group is Free to Join)
Shorts – FurtaCor CSH Shorts (Free Gift on the Miix Event Hunt/Group is Free to Join)
Socks and Skates – FurtaCor CSH Roller Skates (Free Gift on the Miix Event Hunt/Group is Free to Join)
Ice Cream – FurtaCor Ice Cream (Free Gift on the Miix Event Hunt/Group is Free to Join)
Earrings – LaGyo Stardust

Body 
Mesh Body – Maitreya Lara
Mesh Head – Lelutka Cate
Head Applier –  Glam Affair Cate
Eyebrows– Jumo Britani
Eyes– Euphoric Dolly Babe Eyes
Tattoo – Sn@tch Filigree Sternum Tattoo
Eyeshadow Applier – Lelutka Cate
Lipstick Applier – Lelutka Cate
Nails – Maitreya Lara
Hair –  Magika Bella
Pose – Foxcity Miss United Skates
Backdrop – Rowne Street Style Star