I am feeling so lucky today, FabFree.  Lucky because I have been given the awesome gift of this lovely blog to care for.  Yes, it sounds corny and flowery and trite, but I honestly mean it!  When Bunnie poked me with the idea of trying out some hunts, I thought "Hey, why not?".  I've been pretty blown away with all the response we've gotten, from kind designers who have thanked us, to hunters who thank us for organizing.  I love it when a plan comes together!
Bunnie
Not only did Bunnie Francis mastermind the whole FabFree St. Patty's Day Hunt (invitations! posters! HUD! and a billion more things!), she also put together some pretty lovely prizes for our hunters at her store, Paper.Sparrow.  I picked up the Gnomes sweater and the knickers to go with.  I feel festive and cozy all at once.  This prize costs only 5L.  Don't you love the little gnomes?  Peek at the key below to get a better look!
Sizes
Freya
Hourglass
Isis
Maitreya
Legacy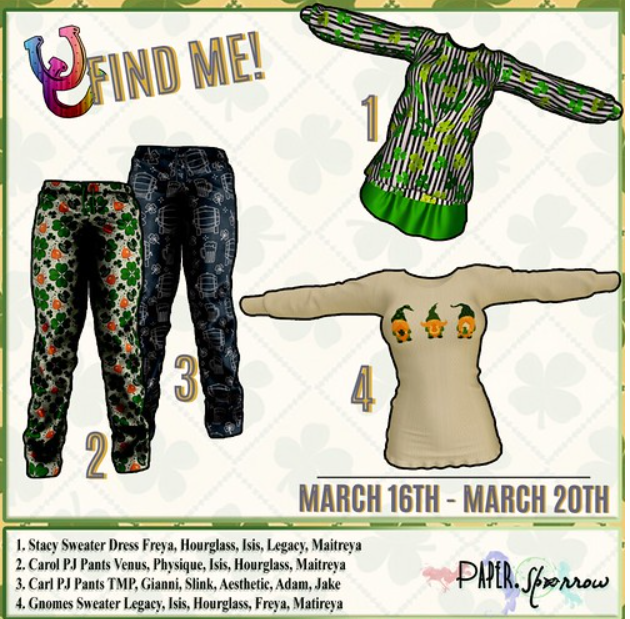 Gaze
Another super lovely human that I've gotten to know through FabFree is Gaze Satin of Afterparty.  He is SO kind and generous, and we have had some really great conversations while working on our stuff.  On the FabFree St. Patty's Day Hunt, he's got these super cute earrings (zomg neon gradient gorgeousness!) for just 5L and loads of really pretty clover-shaped lamps (5L as well) that I've strewn all over the place for a shot of pretty, good luck. Excitingly, the green pack (item 3) is entirely free!  Woot!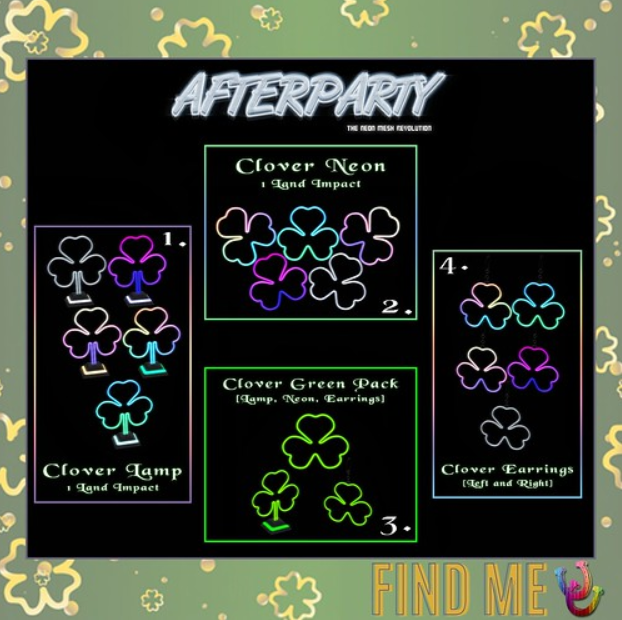 The FabFree St. Patty's Day Hunt is here for a good time, not necessarily a long time!  You've got til the 20th to grab the goods, and you can see all the hunt keys HERE.  You can also head over to the FabFree Info Hub to get an HUD to help you on  your travels!
Big heart eyes at you all,
xox
Aline
Aline is Wearing…
Clothes
Sweater & Knickers- Paper.Sparrow Gnomes (5L on the FabFree St. Patty's Day Hunt)
Earrings – Afterparty Clover Earring (5L on the FabFree St. Patty's Day Hunt)

Body 
Mesh Body – Maitreya Lara
Mesh Head – Lelutka Cate
Head Applier –  Glam Affair Cate
Eyebrows– Jumo Britani
Eyes– Euphoric Dolly Babe Eyes
Tattoo – Sn@tch Filigree Sternum Tattoo
Eyeshadow Applier – Lelutka Cate
Lipstick Applier – Lelutka Cate
Nails – Maitreya Lara
Hair –  Lamb Doll
Pose – Sweet Art Pool Pose
Sim – Private
Decor
Lamps – Afterparty Clover Lamps (5L on the FabFree St. Patty's Day Hunt)