I know that green seems to be popping up all over the place these past few days, but I for one am all for it.  Here in the frozen North, we've still got a while to go before things start even thinking about turning green!  Right now it's what we like to call "Fool's Spring" – where a few days of sunshine and *slightly* warmer weather has everyone thinking Spring is on its way…then the snow hits again!  Bring on the green!
Fabulous and Free
I don't know if you've noticed, but Lybra sure have been knocking it out of the park these days!  They have hunts and free gifts galore going on!  And of course, near and dear to my heart is the new FabFree group gift that just popped up.  This sexy dress comes in a full fatpack of colours, and it's flirty and femme in all the right ways.  Of course, to get it all you need to do is join our FREE group, and then click on the vendor.  Lovely!
Sizes
Alice
Freya
Hourglass
Isis
Maitreya
Hunting for Doves
I told you the other day about the monthly hunt that Lybra is taking part in at The Free Dove, but this month there are actually TWO free hunts going on at The Free Dove!  The second is sponsored by Chop Zuey, which means lots of pretty jewelry.  This time you're looking for 10 white doves (5 at The Free Dove and 5 at Chop Zuey).  To pick up these gifts, you need to be a member of the Free Dove group which is free to join.  I'm showing off the Star Crossed and Yareli bracelets.  You've got until the end of the month to take part in this hunt!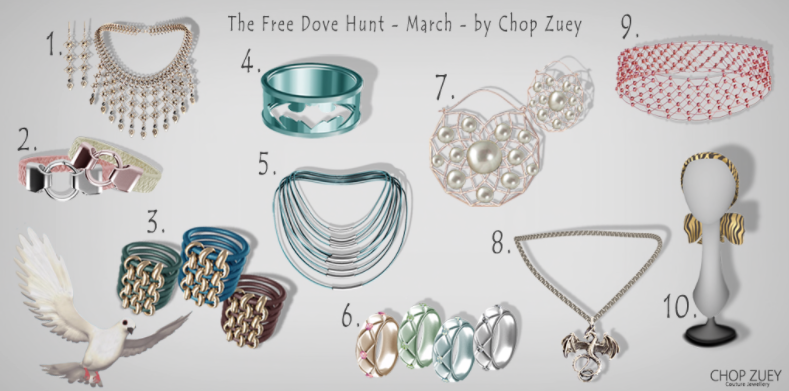 GREEN I SAY!
xox
Aline
Aline is Wearing…
Clothes
Dress – Lybra October (Free Gift for Members of Fabulously Free in SL Group/Group is Free to Join)
Earrings – LaGyo Stardust
Bracelet 1 – Chop Zuey Star Crossed Bracelets (Free Gift on the Free Dove Hunt/Group is Free to Join)
Bracelet 2 – Chop Zuey Yareli Bracelet (Free Gift on the Free Dove Hunt/Group is Free to Join)
Body 
Mesh Body – Maitreya Lara
Mesh Head – Lelutka Cate
Head Applier –  Glam Affair Cate
Eyebrows– Jumo Britani
Eyes– Euphoric Dolly Babe Eyes
Tattoo – Sn@tch Filigree Sternum Tattoo
Eyeshadow Applier – Lelutka Cate
Lipstick Applier – Lelutka Cate
Nails – Maitreya Lara
Hair –  Olive The Heartbreaker Hair
Pose – Foxcity Infatuation
Sim – Private