Righto FabFree, time for another preview of our awesome hunt that's coming up next week.  We are really excited to show you all the good stuff that's coming your way, and there's so much that we will be previewing the prizes over the next few days!  Today I'm feeling very lucky in the prizes from Ava Design and Kim's Kreations!
Hunt it Out
This very themed outfit really got me in the spirit for St. Patrick's Day! Ava Design has three different versions of this outfit to hunt for (when the time comes) for our hunters.  It comes with the dress, panties and shoes – so a one stop look!  Someone needs to pinch me, I think!
Sizes
Freya
Isis
Venus
Maitreya
Hourglass
Physique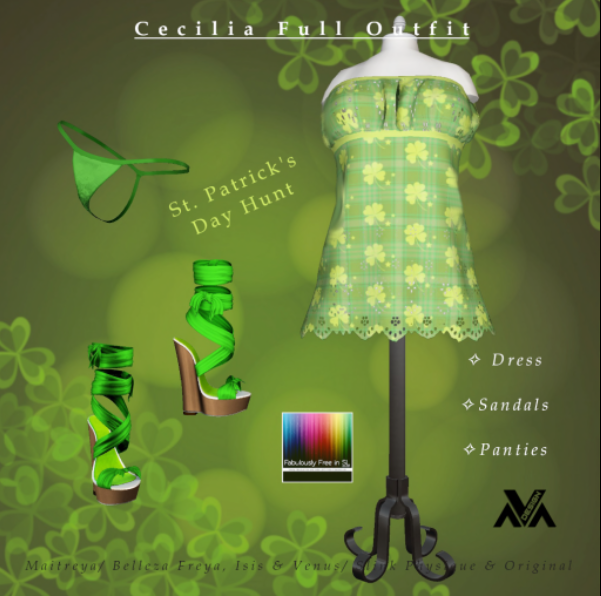 Thank You, Next!
At Kim's Kreations, there are several lovely decor items, that are perfect for a little garden party.  I'm about to sit down to a little bit of afternoon tea with this lovely chair and table.  It's perfect for spring, and especially perfect for St. Patty's Day.  Kim is always so generous to our FabFree group members, so please make sure you send some lovins her way!
All the items on the FabFree St. Patty's Day hunt are under 5L, making them all a super good deal.
We can't wait for you to take part in the hunt – It's running from March 16th – 20th, and it promises to be a good time!  Check out all the prizes on our hunt page HERE.
Good Luck!
xox
Aline
Aline is Wearing…
Clothes
Dress, Panties and Shoes– AvaDesign Cecilia (Gift on the FabFree St. Patty's Day Hunt)
Earrings – LaGyo Stardust

Body 
Mesh Body – Maitreya Lara
Mesh Head – Lelutka Cate
Head Applier –  Glam Affair Cate
Eyebrows– Jumo Britani
Eyes– Euphoric Dolly Babe Eyes
Tattoo – Sn@tch Filigree Sternum Tattoo
Eyeshadow Applier – Lelutka Cate
Lipstick Applier – Booty's Beauty Stone
Nails – Maitreya Lara
Hair –  Magika Gemma
Pose – Foxcity Thoughts
Table and Chairs – Kim's Kreations St. Patrick's Day Draped Chair & Table (Gift on the FabFree St. Patty's Day Hunt)
Sim – Private