Shhh…I'm hiding out in here cuz I'm trying to escape from all the things I'm supposed to be doing.  The thing is, you put on some lingerie and a robe and next thing you know you're far too sexy to be doing anything as pedestrian as washing the dishes.  I call this look "the dishes can wait, don't tell them I'm hiding".
The Hunt is Afoot!
It's time for another awesome free hunt hosted by The Free Dove.  This month, the prizes come courtesy of one of my absolute faves – Alaskametro!  If you're not familiar with how hunts from The Free Dove work, then let me break it down real quick.  There are 10 prizes to be found, but 5 of them will be at The Free Dove, and the other 5 are located at Alaskametro's main store.  To get the prizes, you'll need to joint the free Free Dove group, and then hunt for the red heart-shaped boxes all over both sims.  You'll find some really fantastic prizes this round, including lingerie, robes, makeup, nail polish and even skins.  Here's what I've got on:
FREE robe sized for Maitreya, Hourglass, Physique & Small and Medium.
FREE lingerie in BOM layers and an Omega Applier
FREE nail polish with appliers for Maitreya and Omega
FREE lipstick in BOM and Omega appliers
FREE eyeshadow in BOM and Omega appliers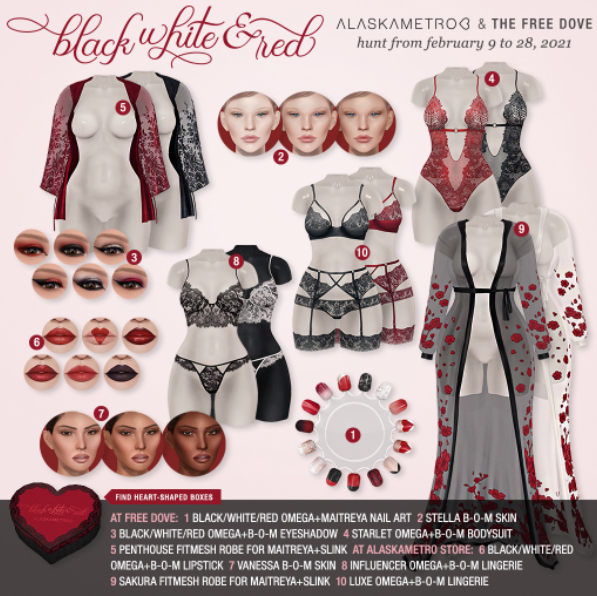 You've got til Feb 28th to take part!
Happy Hunting!
xox
Aline
Aline is Wearing…
Clothes
Lingerie – Alaskametro Luxe Lingerie (Free on the Alaskametro x Free Dove Hunt/Group is Free to Join)
Robe – Alaskametro Sakura Robe (Free on the Alaskametro x Free Dove Hunt/Group is Free to Join)

Body 
Mesh Body – Maitreya Lara
Mesh Head – Lelutka Cate
Head Applier –  Glam Affair Cate
Eyebrows– Jumo Britani
Eyes– Euphoric Dolly Babe Eyes
Tattoo – Sn@tch Filligree Sternum Tattoo
Eyeshadow Applier – Alaskametro BWR Eyeshadow (Free on the Alaskametro x Free Dove Hunt/Group is Free to Join)
Lipstick Applier – Alaskametro BWR Lipstick (Free on the Alaskametro x Free Dove Hunt/Group is Free to Join)
Nails – Alaskametro BWR Nailpolish (Free on the Alaskametro x Free Dove Hunt/Group is Free to Join)
Hair –  Truth Soirée
Pose – Insomnia Angel Finger Play
Backdrop – Amitie Dressing Room Backdrop Scene