In the cold depths of January, all I can really think of is a bit of sunshine and warmth.  It's been grey in my part of the world for the past forever weeks, and so the thought of sunshine and delicate cherry blossoms warms my insides a bit.  It's all I can think of!
Blossoms
Apple Blossom just put out a new group gift for members of the Second Life Frees and Offers group (SLFO)! The group is free to join, and with it you can access to lots of quite lovely gifts.  There are two different versions of this dress available for members – this one I've got on as well as a plain pink one.  You can also wear it with or without sleeves, if that's your thang!  It's sexy and cute all at the same time, which makes me one happy camper.
Sizes
Freya
Legacy
Maitreya
Perky
Belle
Belle Époque have also put a new free gift out for members of the SLFO group:  a lovely set of bento nails.  They come in some really cool holographic-esque colours, and I think you can make them work with loads of different looks.  They come rigged for Maitreya and Legacy hands.  Again, this group is free to join, making these nails entirely free!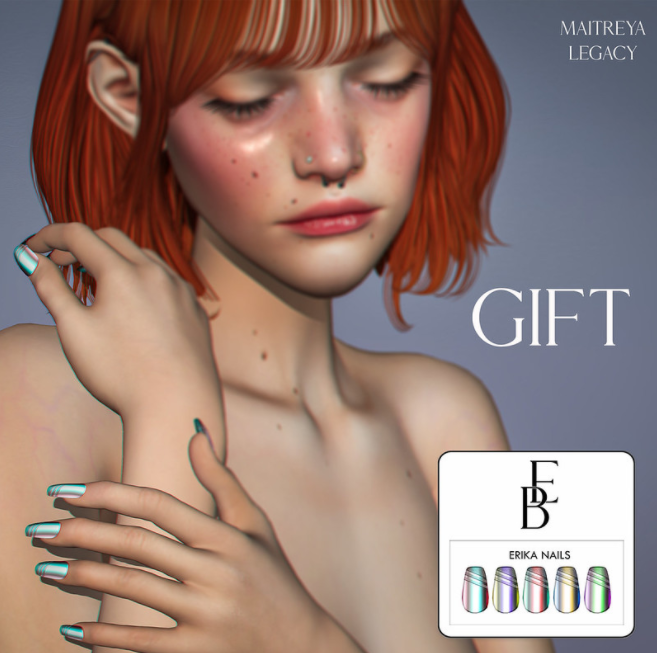 I'm not going back to the cold!  NEVAHHHH!
xox
Aline
Aline is Wearing…
Clothes
Dress – Apple Blossom Lourdes No. 19 (Free Gift for Members of SLFO Group/Group is Free to Join)
Necklace – Kibitz Your BabyGirl

Body 
Mesh Body – Maitreya Lara
Mesh Head – Lelutka Cate
Head Applier –  Glam Affair Cate
Eyebrows– Jumo Britani
Eyes– Euphoric Dolly Babe Eyes
Tattoo – Sn@tch Filligree Sternum Tattoo
Eyeshadow Applier – Lelutka Cate
Lipstick Applier – Lelutka Cate
Nails – Belle Epoque Erika Mesh Nails (Free Gift for Members of SLFO Group/Group is Free to Join)
Hair –  Moon Taylah
Pose – Versuta Avril
Backdrop – Synnergy Garden