Yaaaaaay Happy Friday, FabFree!  I don't know about you, but I am suuuuper ready for a bit of R&R.  I put on my pyjamas, grabbed a cup of hot chocolate and nestled myself into the couch, when all of a sudden I heard some tinkling bells coming from the outside world…. I headed out into the snow, and what to my wondering eyes should appear?  You guessed it – it was Jolly old St. Nick himself up in the clouds, waving and ho-ho-ho-ing.  I'm 96% sure that I wasn't hallucinating…hmm…
Yay, Advent!
I do love me some Advent.  There are so many awesome gifts to pick up inworld that it is hard to keep up!  Are you one of those people who manages to do it every day?  I've heard of some intrepid souls who do the WHOLE FabFree list every day, and my hat is off to you!  I needed to lie in a dark room after just writing the list!  Anyway, one of the Advent calendars that has recently appeared is the two at Petite Mort and Oubliette!  A new gift appears every day.  They're free, no group join required, AND they don't disappear after the day, so if you miss one you can head back and grab.  But don't wait… they'll all disappear on the 25th!  I grabbed the gifts from Days 1 & 4 from Oubliette to make my little comfy (and a bit witchy) outfit.  So cute, right?
Sizes
Freya
Hourglass
Isis
Maitreya
Physique
Venus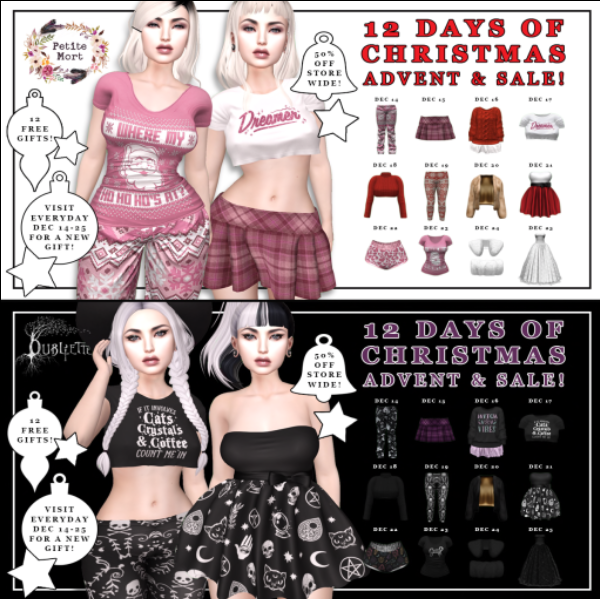 There are also some great deals in the store while you're at it – like 75L super adorable PJ pants!
Eye on the Prize
Another free gift I picked up today is this sparkly and intense eye shadow applier from La Malvada Mujer.  I joined their free group to pick up this striking makeup.  There's also matching lipstick if you fancy it!  The Mosquito eyeshadow comes with an Appliers for Lelutka Evo, Genus, Omega and BOM layers and comes in a whole host of pretty, sparkly hues.  Woot!
Ok, I'm starting to get cold out here!
xox
Aline
Aline is Wearing…
Clothes  
Shirt – Oubliette Xmas Cropped Tee (Free Advent Gift/No Group Join Required)
Pyjama Pants – Oubliette Xmas Jammies (Free Advent Gift/No Group Join Required)

Body 
Mesh Body – Maitreya Lara
Mesh Head – Lelutka Cate
Head Applier –  Glam Affair Cate
Eyebrows– Jumo Britani
Eyes– Euphoric Dolly Babe Eyes
Tattoo – Sn@tch Filligree Sternum Tattoo
Eyeshadow Applier – La Malvada Mujer Mosquito Eyeshadow (Free Group Gift/Group is Free to Join)
Nails – Alaskametro Tis the Season
Lipstick Applier – Lelutka Cate
Hair – Magika December
Pose – Foxcity Editorial V1
Backdrop – Crystal Store Spirit Christmas