Ok FabFree, strap yourself in, because it's time for another wild ride down the path of free mesh heads!  LeLutka are being super generous over the Holidays with not one, but TWO free, complete, mesh heads from their Evolution line!  Wow!  Read on, and I'll tell you all about how to grab this amazing gift and what's included.
Lilly & Alain
I roped in the lovely Oov to help me out with showing you both the male and female heads, and we were pretty intent on doing it all for free, to see if you really are getting this head for 0L or if you have to pay anything extra to make it work.  We are happy to report that both heads are good to go and come with everything you need to move forward in the realms of mesh.  I am really not someone who knows much about BOM (it's just not my jam) but I found this was fairly easy to use and I put this look together with the skins, eyebrows, eyes, makeup, facial expressions etc that were included in the free pack.  When you really think about it, this is truly an amazing gift!  Oov was just as impressed with the male head and we were excited with the way it all turned out.
To get yours, join the Lelutka group for free and head to THIS LOCATION, and click on the sign.  I'll admit, the sim is extremely busy and you may be fighting for a while to get in, but don't fret – you've got until December 26th to get these wonderful gifts!
Also, though you can make your own shape using "edit my appearance", and there is one included in the box, I headed over to Pout! to pick up the free gift shape they just put out for the Lilly head.  No group join required!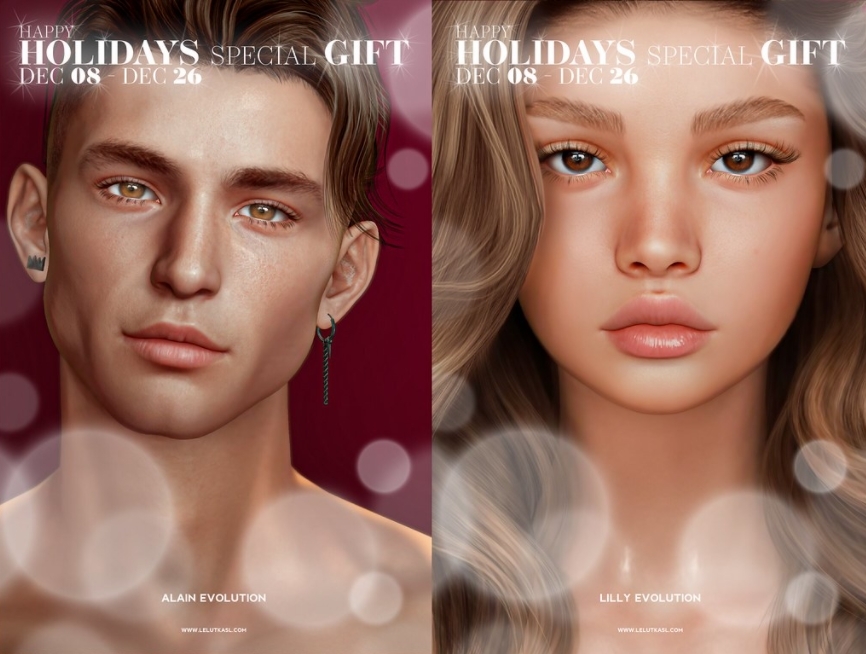 Thank you, LeLutka!
xox
Aline
Aline is Wearing…
Clothes  
Sweater – Ricielli Dea Sweater
Skirt – Blueberry Kimi
Scarf – Erratic Satin Scarf Xmas Red
Body 
Mesh Body – Maitreya Lara
Mesh Head – Lelutka Lilly  (Free Group Gift/Group is Free to Join)
Shape – Pout! Lilly Shape (Free Gift/No Group Join Required)
Skin – Lelutka Lilly (Free/ Included with Group Gift)
Eyes– Lelutka Lilly (Free/ Included with Group Gift)
Tattoo – Sn@tch Filligree Sternum Tattoo
Eyeshadow Applier – Lelutka Lilly (Free/ Included with Group Gift)
Nails – Maitreya Lara
Lipstick Applier – Lelutka Lilly  (Free/ Included with Group Gift)
Hair – Magika Midnight
Pose – K&S Already Made Up My Mind

Oov is Wearing
Clothes  
Suit – Deadwool Peak Suit & Oscar Coat
Body 
Mesh Body – Signature Gianni 
Mesh Head – Lelutka Alain (Free Group Gift/Group is Free to Join)
Skin – Lelutka Alain (Free/ Included with Group Gift)
Hair – Exile Knox