I've always been a massive fan of pink and black mixed together.  I think it's probably because it's tickles both of my fancies: innocent, happy and child-like fun and a bit of mysterious darkness.  If you throw in a reference to Alice in Wonderland, then just colour me the happiest little avatar this side of the grid.
The Monster Mash
The Monster Mash Hunt is in full swing, and that means a bit of hunting and a lot of well-priced goodies.  I got this awesome dress over at Cats n Kittens Boutique!  It of course references my fave – the Cheshire Cat, and only cost me 1L, and a little bit of hunting.  This hunt gives you the option to search and get the prize for 1L, or if you can't be bothered with searching, you can buy the gift for 25L near the entrance of the store.  Look for the little Halloween cutout (you'll see an example by the poster) and it's yours!  You'll find all the hints and photos of gifts on their website HERE.  The Monster Mash Hunt runs until October 31st.
Sizes
Freya
Hourglass
Isis
Maitreya
Physique
Venus
Stepping Out
These bubblegum pink platforms are the antithesis of anything dark, and you can get them as the latest group gift from Mosquito's Way.  I always enjoy their gifts, as they are super well constructed and very pretty.  To get them, join the Mosquito's Way group for FREE and click on the vendor by the front desk.  There are other gifts near the entrance too!  These platforms come sized for Belleza, Maitreya and Slink feet.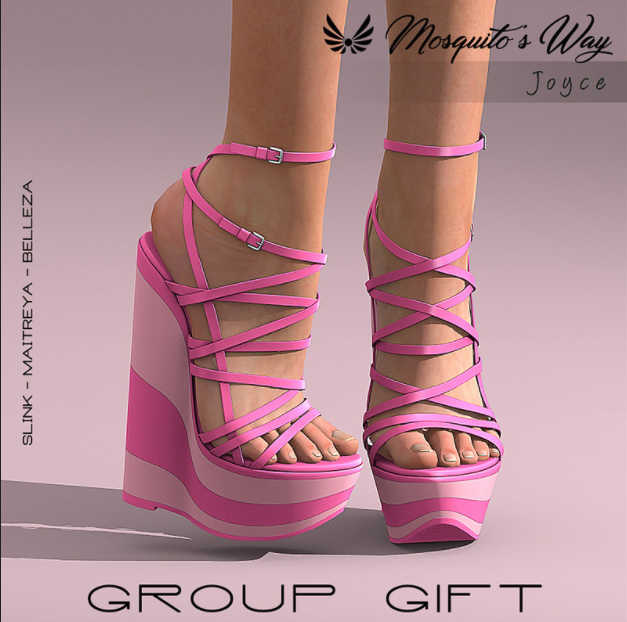 Time for ice cream… strawberry or black charcoal?  Hmm…
xox
Aline
Aline is Wearing…
Clothes  
Dress – Cats n Kittens Boutique We're All Crazy Here (1L on the Monster Mash Hunt)
Shoes – Mosquito's Way Joyce (Free Group Gift/Group is Free to Join)
Body 
Mesh Body – Maitreya Lara
Mesh Head – Lelutka Cate
Head Applier –  Glam Affair Cate
Eyebrows– Jumo Britani
Eyes– Euphoric Dolly Babe Eyes
Tattoo – Sn@tch Filligree Sternum Tattoo
Eyeshadow Applier – Alaskametro Fall Essentials
Nails – Maitreya Lara
Lipstick Applier – Lelutka Cate
Hair – Bonbon Junko
Backdrop – ninety ice cream shop