The weekend may be slowly coming to a close (alas!), but I think I still have a bit of fun left to squeeze out of it.  Time to put on some comfy but cute clothes, hang out on the porch and enjoy the sunset.  Hey, that counts as partying nowadays, right?
It's the Kustom
As is my wont, I made my way to this month's round of Kustom9 and played all the lovely gachas (I refuse to acknowledge this as a problem!), but the one gacha that to me is always super worth it is Amitomo.  You really get bang for your buck when you play their gachas.  At just 69L per pull, it's hard to come away with anything less than a stellar outfit!  In just two pulls I had a top and skirt combo that is ready for all types of porch chilling.  If you're lucky, you might just get the rare hair!  As always with Amitomo, their items are made exclusively for Maitreya bodies.  Which will you win?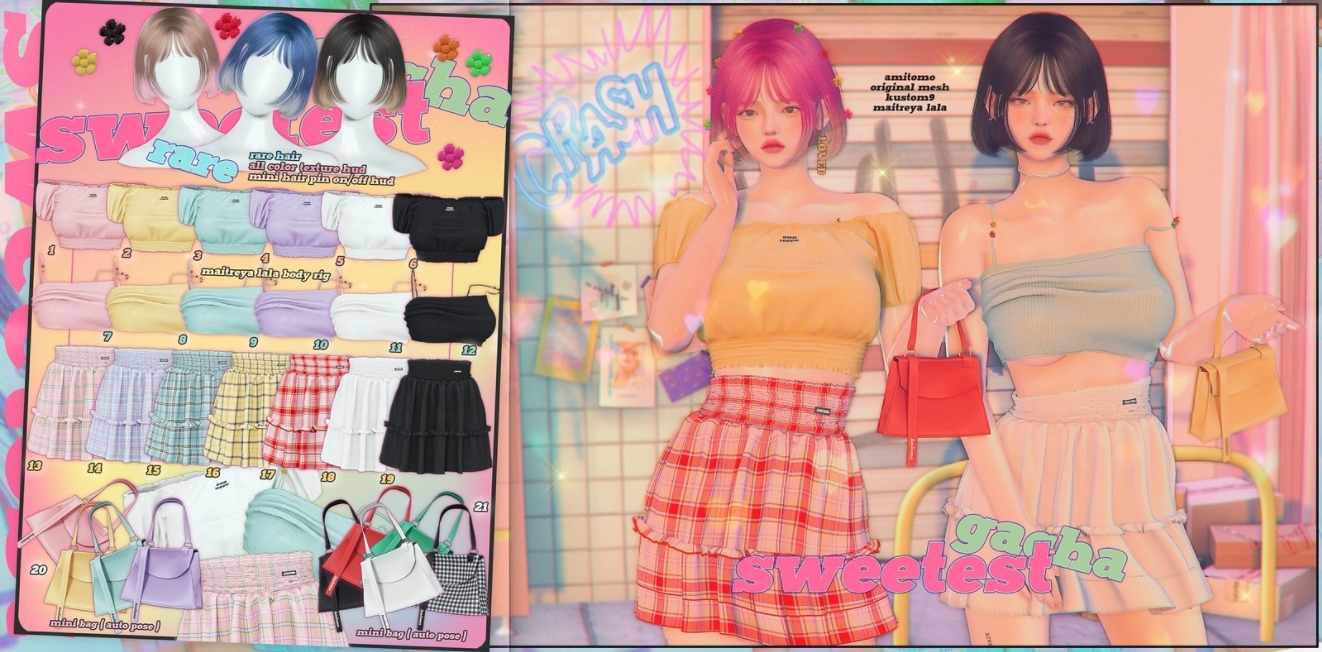 Keep it Sparkly
And because I'm a bit sad that the weekend is ending, these sparkly tears I've got on my cheek from Insomnia Angel give my outfit just that little bit of glam drama I needed.  They're completely free, no need to join a group.  Just head on upstairs and you'll find a confessional full of free gifts that are fun, surprising and a bit surreal!
Farewell, sweet weekend.  You will be missed!
xox
Aline
Aline is Wearing…
Clothes  
Top – Amitomo Sweetest Gacha # 11 (69L Per Pull @ Kustom9)
Skirt – Amitomo Sweetest Gacha # 15 (69L Per Pull @ Kustom9)
Tears – Insomnia Angel Crystal Tears (Free Gift/No Group Join Required)
Body 
Mesh Body – Maitreya Lara
Mesh Head – Lelutka Cate
Head Applier –  Glam Affair Cate
Eyebrows– Jumo Britani
Eyes– Euphoric Dolly Babe Eyes
Tattoo – Sn@tch Filligree Sternum Tattoo
Eyeshadow Applier – Alaskametro Fall Essentials
Nails – Maitreya Lara
Lipstick Applier – Lelutka Cate
Hair – Olive The Freya V2 Hair
Pose – Foxcity Spirited Away