Ah, to be a mermaid.  I'd 100% be a lazy mermaid though, the kind that spends her time in the shallows and waves her tail nonchalantly at passing princes.  I don't have time to be embroiled in underwater intrigue, this mermaid just wants to chill!
Flipping Her Fins
Ok, I've been looking for an awesome mermaid tail for a while now (I already own a few, but you know…you can never have too many) when along comes this pretty one from Fireheart!  It is 100% free when you join their free group.  It also comes with the shell-like bra top, as well as a very mermaid-like pose (not pictured).  It's everything you need for your mermaid fantasy!  It doesn't really specify what size it is, so a bit of alpha work may be necessary to work on your body.  It worked rather well with my Maitreya body once I alpha'd out my legs and feet.  To get it, just peek in group notices by pasting this code into your local chat:
secondlife:///app/group/68a7c062-e87e-9003-9182-0eb394f12f57/about
Her Crown
No mermaid princess would dare show her face in the shallows without the perfect diadem.  You know, diadem, crown, tiara…head jewelry…whatever you want to call it!  The latest group gift at Belle Époque is colourful, happy and works with my look really well.  I didn't use the necklace that is also included, but it is also super fun and I've added the vendor pic below so you can see it.  To get it, join the Belle Époque group for 10L, and it's yours!  There are a bunch of other gorgeous gifts to grab while you're there!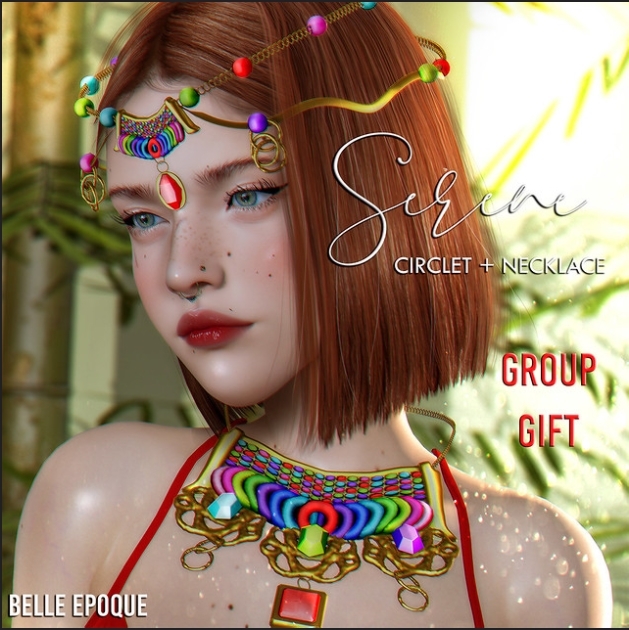 Time for some tilapia!
xox
Aline
Aline is Wearing…
Clothes  
Bikini Top and Tail – Fireheart Mermaid Tail (Free Group Gift/Group is Free to Join/Gift in Group Notices)
Diadem – Belle Epoque Serene Set (Free Group Gift/Group is 10L to Join)
Body 
Mesh Body – Maitreya Lara
Mesh Head – Lelutka Cate
Head Applier –  Glam Affair Cate
Eyebrows– Jumo Britani
Eyes– Euphoric Dolly Babe Eyes
Tattoo – Sn@tch Filligree Sternum Tattoo
Eyeshadow Applier – Lelutka Cate
Nails – Maitreya Lara
Lipstick Applier – Lelutka Cate
Hair – Magika Grace
Pose 1 – Dahlia Milkwater
Pose 2 – Foxcity Wild & Free