Good evening, my dears. I have a super fast one for you tonight because this sale is only going on until FEB. 8!!
I finally broke down and bought a new home here in SL and I'm all about décor right now.  So I was thrilled when Frogstar put a ton of great home goods ( and jewelry and shoes and nails and and and ) in a 'retirement' sale. Not Frogstar retiring , thankfully, but some items to make room for new things!
First is this cute Chalkboard Door. I propped it up by my front door as a welcome sign. The board has ten different looks to choose from. But if that's not enough, Frogstar has included blank chalkboards textures so you can create your own messages and pictures!
Sharing the front porch with my new chalkboard is Crys Secret Garden's Planter gift for FabFree. This lovely little planter full of greenery and a butterfly is available at our own FabFree Headquarters for… you guessed it… free!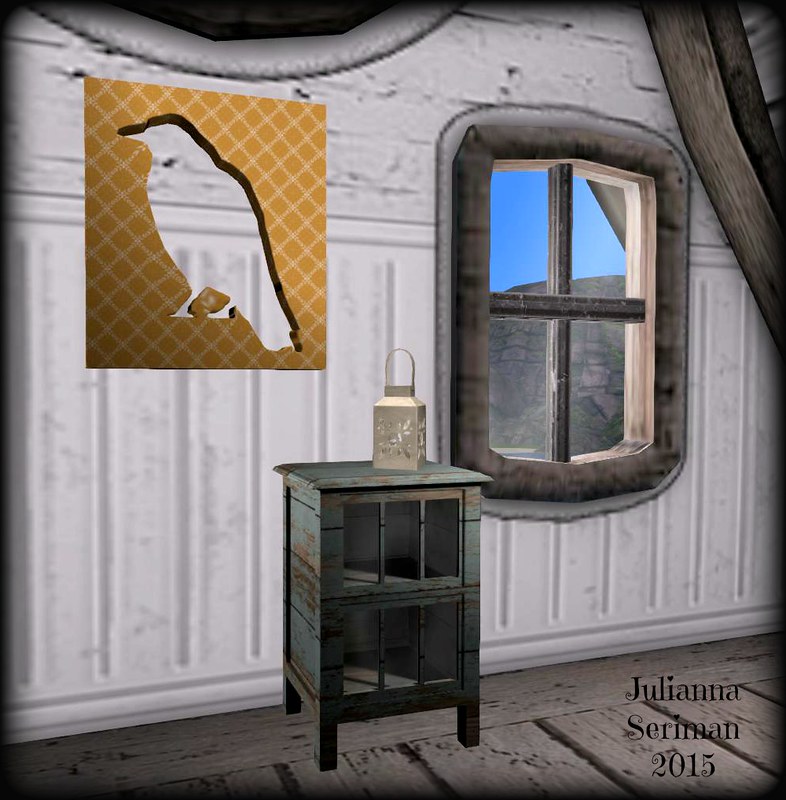 This is the Torcello End table. I love the 'distressed paint' look in real life and I was tickled to find such a cute versatile end table for my SL home. The table comes in eight different colors so one is sure to be perfect for your décor. On the wall is the 'My Little Raven' 3d wall art. He comes with three different color changes.  Lastly is the 'Plaster Garden Lantern' in yellow. The Lantern is not on sale but it's still a very reasonable 75L. It is completely resizable so you could use it indoors or out.
I've only shown a few of the great home goods on sale but there are also many other items on sale such as jewelry, shoes and nails! Remember, this special "retirement" sale only lasts till Feb 8!!!
Your taxi to Frogstar
Juli's furnishing finds –
Chalkboard – Frogstar – (63L/ Special Sale)
Planter – Crys Secret Garden at the Fabfree Headquarters – (Free/0L/FabFree Gift)
Table – Frogstar – Torcello End Table – (50L/Special Sale)
Art – Frogstar – My Little Raven Wall Art – (25L/Special Sale)